Are you tired of dealing with the cold winters here in Canada? Are you and a loved one considering retiring abroad? If so, you should consider the Dominican Republic as your future home! The DR is the perfect destination for investors, entrepreneurs, and retirees alike. This tropical paradise has plenty of opportunities for newcomers to enjoy life at a slower pace without compromising on the amenities you know and love. At Casa Linda, we want your retirement to be a breeze! We offer our residents a range of villa floorplans so you can retire in luxury. If you're planning to retire soon, consider living in the Dominican Republic. Below we'll discuss some of the DR's benefits it has to offer retirees. Continue reading to learn more!
Retire with Ease!
Moving to a new country can be a complicated process, especially if you plan to do so after retiring. Retirement is a well-deserved and exciting stage in life. Still, it requires you to be honest and open about your financial situation and goals. Luckily, the Dominican Republic is welcoming to foreign investors and expatriates. Retiring abroad in the DR is simple! The residency process, affordable housing, and numerous incentives available to foreign investors makes moving to the DR exciting and easy!
Don't Compromise on Healthcare.
Many expatriates looking to retire abroad consider healthcare one of the essential factors in determining where they'll settle down. Fortunately, the Dominican Republic offers a dependable healthcare system with state-of-the-art facilities and experts. Healthcare professionals can provide care in both English and Spanish, so speaking with your doctor is easy. Best of all, many residents in the DR find that the country's healthcare system is affordable and comparable to the healthcare they're used to in Canada.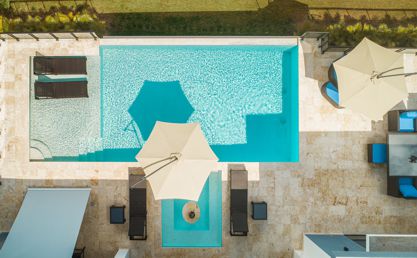 Stunning, Safe, Serene
Aside from healthcare, safety is another priority for those looking to relocate to a new country. Determining the safety of a country can be challenging, but Casa Linda is here to help quell your fears. The DR is one of the safest countries in the Caribbean. The only safety concerns you need to consider are the usual precautions you would take anywhere in Canada or the USA. Casa Linda's villas are located within gated communities that offer 24/7 security for our residents. That means you'll have peace of mind while staying in the DR or visiting another country. With many of your future neighbours also being retirees, you'll have the comfort of knowing that your community is safe and filled with individuals who have similar experiences.
The Dominican Republic is a beautiful country filled with stunning beaches and many exciting activities to keep you entertained. The DR is stable politically and economically, so living the tropical lifestyle at a slow and easy pace is right around the corner. We are sure you'll enjoy your retirement with over 200 days of sunshine and an average temperature of 28° C (82° F)! 
Private Villas at Casa Linda
Casa Linda is the premier custom villa builder in the Dominican Republic. Our team of in-house architects looks forward to creating your future dream home! Living the laidback island lifestyle is easy, with a range of luxurious floorplans to pick from and many customization options. Casa Linda is excited to welcome you home to our vibrant communities. 
Ready Retire in Style?
Casa Linda's gated communities are home to stunning luxury villas. Contact us to learn more about retiring in style in the Dominican Republic!