Sosua, Cabarete, Puerto Plata
All the Conveniences of North America
This area of the Dominican Republic is arguably the prettiest part of the
island. Lush mountains to the south slope towards the sea offering
incredible views. Coral reefs offshore give us protected weather: a near
perfect climate with no hurricanes. We have incredible beaches, each
one a little different. Truly, a paradise to simply enjoy life.
For foreign buyers, the north offers excellent infrastructure with great
restaurants, shopping, hospitals, schools, and banking. We appreciate a
low cost of living and taxation. You'll find everything you're used to having
back home, except cold, snow and gray skies.
Whatever you want to do, it's here. You'll never be bored.
Cabarete is a cosmopolitan beach village with a bohemian flare. Its coral reef protected bay is dotted with diverse restaurants, as well as quaint shops; water sports abound.
Many local events are held along the beach, and nighttime is especially pretty as restaurants light up the night and bring tables onto the sand for starlight dining.
Cabarete is well known as a kite and windsurfing haven and hosts the world championships each year. Try your hand! There are many kite and windsurfing schools along the beach.
Other activities include stand up paddle boarding, enjoying lunch or dinner at great restaurants, exploring the local caves or protected lagoon, taking a tour or excursion, or simply relaxing on the beautiful beach.
This little town has grown up to be an active community with modern services, shopping, medical facilities, and community events.
Enjoy a leisurely walk around town, shop, snorkel, take a dive, go fish, head out on a catamaran. Soak up the sun! Sosua has it all!
Expat centred Sosua offers one of the most beautiful beaches on the island with powdery sand and crystal clear blue water. Vendors and restaurants run parallel to the beach and are available for shopping, food, drinks, and even on the beach service! Also in town is Playa Alicia – yet another lovely beach for tourists and residents.
Sosua also offers big box grocery shopping, a modern hospital and a huge variety of restaurants.
The history of this seaside town is very unique. In the early 1940's many Jewish settlers arrived here to escape the persecution of war. The refugees settled in the east part of Sosua known as El Batey and formed the successful Sosua Dairy co-operative (Productos Sosua), which exists to this day. There is a small Jewish museum detailing the history of the refugees.
Founded in the early 1500's, Puerto Plata was designed by Christopher Columbus and his brother, Bartolome. Named for the silvery hues of its natural harbor, the city is surrounded by mountains. Visitors can enjoy the only aerial tramway in the Caribbean and ride to the top of Pico Isabel de Torres, a 793 metre high mountain. The top features a botanical garden.
Another must stop is the Fortaleza San Felipe, a historic Spanish fortress used to protect the city from pirates in the mid 1500's. Today it is used as a museum.
The north coast is also called the amber coast. Check out the amber museum and see this ancient tree sap that has hardened into a semiprecious stone. Guided tours are available. Enjoy your day listening to merengue, the ever present music of the DR, as you stroll about the city. Be sure to stop on the Malecon (ocean drive) for a Presidente Beer!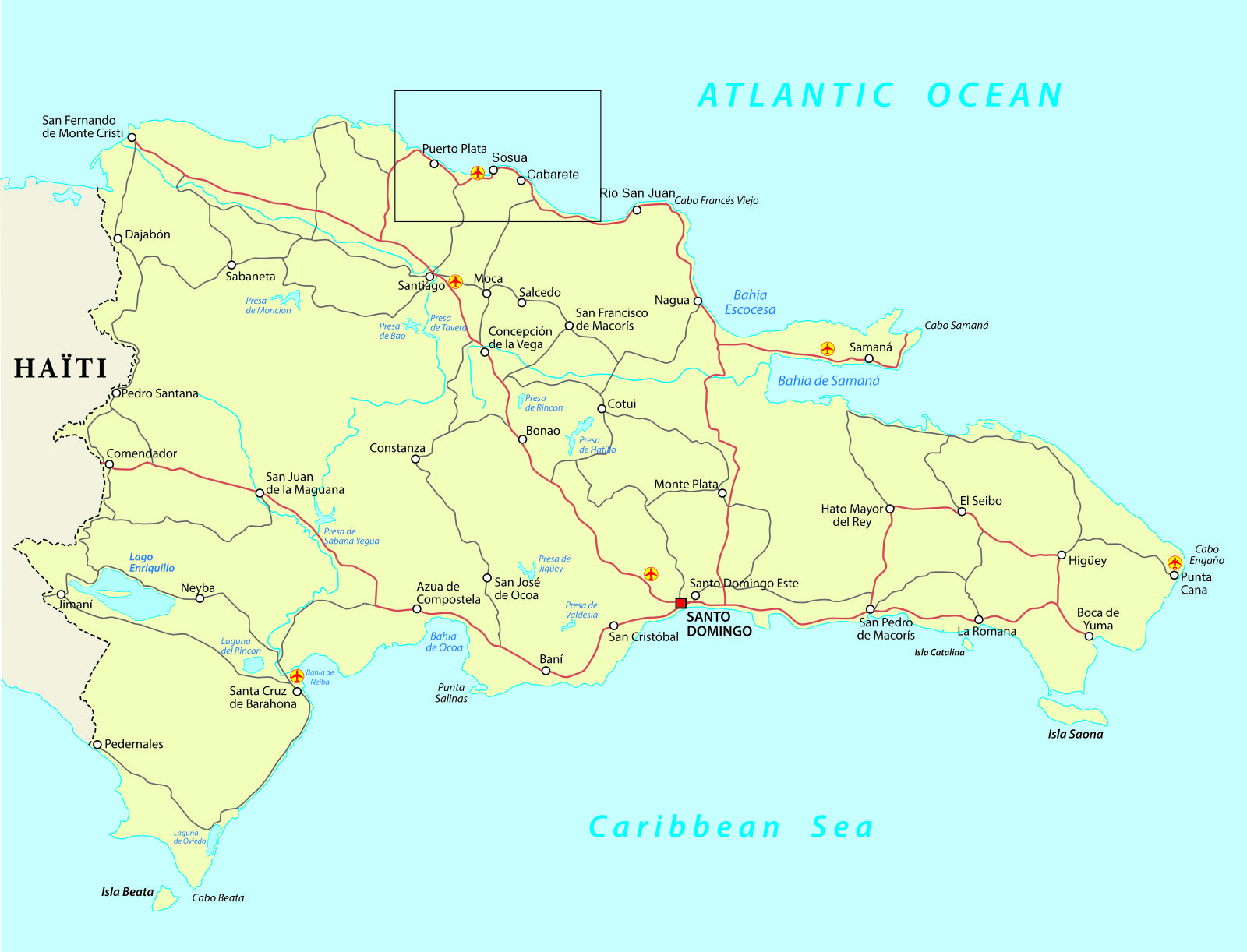 Join us and have fun in the sun!
Talk to us!  We are here to provide information, answers & show you how possible a DR villa really is.