DOMINICAN REPUBLIC
Affordable Luxury in Paradise.
Are you:
 Tired of snow and cold?
Maybe you're wondering where to retire?
Would you like to own a vacation home you can rent?
Are you thinking about a simpler, more affordable way of life?  How about sunshine, sandy beaches, new friends and a slower pace?
Listen to the waves.  Swim in your own pool.  Catch that elusive fish.  Harvest bananas from your backyard…
How about a better quality of life?
Where does your journey begin?
With Casa Linda Quality Communities
For 27-years, we've created the best developments on the North Coast of the Dominican Republic.
Casa Linda Villas
Affordably luxury from $199,900 US. Includes lot, villa, pool & landscaping. Customizable floorplans.  Every Casa Linda villa is a privately owned home.  Find out how you can own an affordable, luxury villa in paradise.
Encuentro Beach Condos
Unique, spacious condos – roof terraces, sea views, onsite amenities and a a quick walk to world famous Encuentro Beach. From $188,600 US
Casa Linda Services & Amenities
27-years of owner services! Administration, rental, onsite amenities & great community.
The North Coast of the Dominican Republic:
Paradise…with real life services!
THE BEST TROPICAL CLIMATE:
Average temperature of 28° Celsius (82° Fahrenheit)
No hurricane has ever been recorded on the North Coast
Over 200-days of tropical sunshine all-year
COMMUNITY
A large expat population makes the north coast home, and has for over 40-years. Expect a warm welcome, many social events, excellent services, and a large friendship group.
DIVERSE & STABLE WITH STRONG INFRASTRUCTURE
#1 tourist destination in the Caribbean. 6,187,542 visitors flew to the Dominican Republic in 2017
Foreign investment-friendly representative democracy
Fully owned property with similar title system to Canada and the US
Strong economic ties to US and Canada
Rich culture overflowing with museums, art, festivals, music
Best communications system in Latin America
Excellent medical facilities & doctors. Affordable healthcare.
The north coast of the Dominican Republic offers the same comforts and services as North America…
without the ice scraper!

A better quality of life. 
Casa Linda
Features & Amenities
Incredible villas with private pools, convenient
location, VIP Beach Club, affordable prices,
outstanding services & great onsite amenities
Gated Community with
24-hour Security
Onsite 24-Hour
English Speaking Office
Minutes to beaches,
shopping, services, airport
Administration &
Management Service
Concierge/Travel
Planning Service
Onsite restaurant,
store, Reception
Successful, Well-marketed
rental Program
Housekeeping
Garden/Pool Service
Thriving Social
Community
Executive Villas with
custom build Options
Strong Infrastructure
North American Standards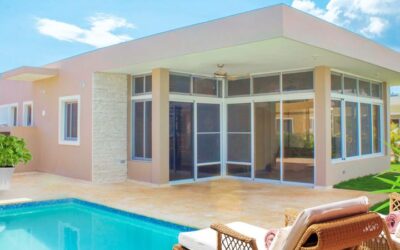 Are you ready to make the exciting leap from part-time snowbird to full-time homeowner in paradise? For individuals looking to move abroad, the Dominican is an incredibly welcoming destination that offers foreign investors a relatively straight forward path for...
Privately owned villas with the services of a tropical resort
Residential Casa Linda
Carretera El Choco, Sosúa, Puerto Plata, Dominican Republic