Why Choose Dominican Republic?
Are you ready to make your dream of living in a tropical paradise a reality? Whether you're looking for the perfect place to settle down after retirement, to purchase a snowbird's heaven, or even to relax in the Caribbean while building your business (entrepreneurs need R&R too!), the Dominican Republic (DR) has something for everyone. Known as the jewel of the Caribbean Isles, this tropical haven attracts visitors from all over the world to its pristine shores, many of whom decide to make their stay permanent. Which one of the most vibrant expat communities in the Caribbean, the Dominican Republic offers residents fully owned and affordable real estate mixed with a stable democratic government, incredible weather, and active community. In short…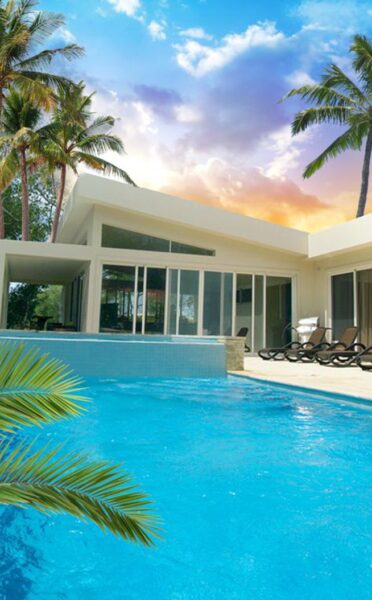 There are Endless Reasons To Buy in the DR
Perfect for people from all walks of life, the Dominican is the perfect paradise for everyone. Whether you're looking to spend your days relaxing in the sun or chasing after adventure, you'll never run out of ways to explore your new home. Relocating to the Dominican gives you access to the following benefits:
RESIDENCY
Unlike some countries the Dominican government wants you to move here! Obtaining a residency status is straightforward, with simple criteria.
VALUE FOR DOLLAR
The north coast of the Dominican, and specifically Casa Linda properties offer affordable real estate mixed with an executive-level construction specification.
CLIMATE
Where else can you enjoy perpetual tropical summer weather, with over 200 days of sunshine? Best of all, the north end of the island is sheltered during hurricane season.
STABILITY
The Dominican Republic offers a democratic, foreign investment-friendly government, low taxes.
CONVENIENCE
The Dominican can be used as a jumping-off point to travel the rest of the world. We have many international airports with direct flights to Europe, the US and Canada. Perfect for snowbirds or those who wish to visit family from time to time.
INVESTMENT
Real estate has proven to be a stable, secure investment in the Dominican, with good capital appreciation each year. The land title system is similar to North America with fully owned titles and properties.
COMMUNITY
A large expat population makes the north coast home and has for over 40-years. Expect a warm welcome, many social events, excellent services, and a large friendship group.
INFRASTRUCTURE
The Dominican has the best communications system in Latin America as well as excellent medical facilities/doctors. You can expect to find similar comforts to North America here in the Dominican.
FIND OUT MORE ABOUT DOMINICAN REPUBLIC LIFE & REAL ESTATE
WHAT ARE YOU WAITING FOR?
It's time to stop dreaming and making your dream of sunny days in paradise a reality! Contact Casa Linda today to learn more about buying a home in the Dominican Republic.