Affordable, customizable, luxury homes with an executive construction spec.
At Casa Linda, we know that no two homeowners are the same; that's why each of our villas is a personal work of art.  When you partner with us, you have the peace of mind that your home will be perfectly tailored to you.
Whether you choose to build from one of our existing floor plans or want to create your own masterpiece from the ground up, our team will happily work with you to customize to your specifications. Enjoy the freedom of a luxurious outdoor kitchen, rooftop terrace, putting range, or whatever else your imagination desires! 
The Best Construction
Each villa is built using sturdy blocks and adheres to North American quality standards. These homes are engineered to withstand seismic activity, offering robust insulation and durability that ensures a lifetime of comfort and security.
Pools are Included
Every villa comes with a swimming pool that fits the size of the villa, but you are welcome to make it bigger, add a water feature, swim up bar, or anything else!
Fully Landscaped Lot
Generous size lots fully planted with troprical trees, shrubs, flowers, fruit trees and designed to be an oasis for you all year long.  Pool & garden service available.
15 Villa Plans to Choose From
We have a villa plan and price point for everyone.  From large to small, each plan is thoughtfully designed for real tropical life.
Customize Your Home
Bring your own villa plan or work with our on-site architects to customize one of our plans to make it uniquely yours.
Modern Interiors
Work with our in-house design team to choose your cabinets, colours, tiles, window colours, bathroom fixtures and everything else to make your home a contemporary masterpiece that suits your style.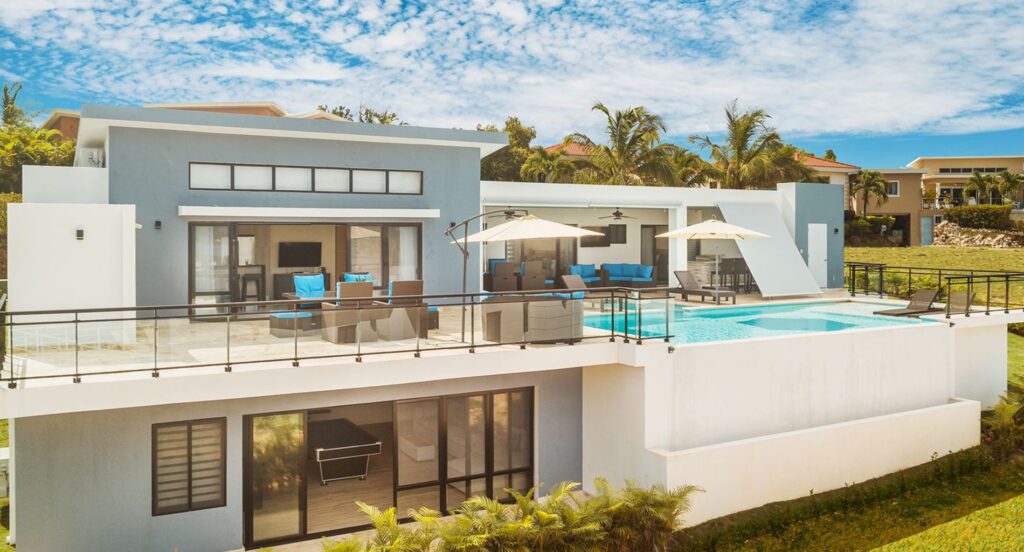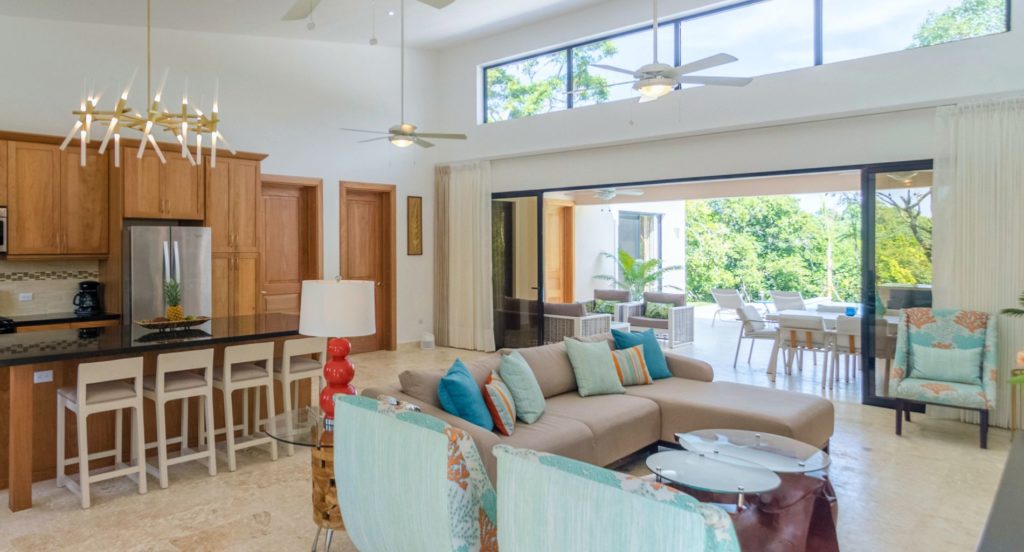 Check Out
Some Great Customization Ideas:
A bigger or smaller pool (than comes with the style of the villa you choose)
Infinity, salt water or mirror pool
Roof top terrace
Indoor/outdoor master bedroom shower
Jacuzzi
Swim up bar
Living plant wall
Fountain or pond
Move to a larger lot than comes with the villa style you choose
Additional square metres/feet of construction (eg. make a house larger, add on space)
Extend the covered terrace
Outdoor palapa
Extended Outdoor kitchen
Carport
Fence for pets
Larger pool deck
Larger windows/doors
Extend the ceiling height or vault the roof
Tropical Dreaming Starts Here
Talk to us!  We are here to provide information, answers & show you how possible a DR villa really is.
"We bought our villa several years ago while we were still working. We put it in the rental program and let it pay for itself. Now we've retired and are enjoying our DR home 6-months a year! It's snowing in Canada, but not here….! Casa Linda is a great community!"
…"out of all decisions made in the past , this is the best one yet…. A place where you would find many beaches minutes away, great food and activities. Living in Casa Linda is like living in a cocoon, where nothing but peace and tranquillity is always present….love it !"