Cabarete in the Dominican Republic first garnered attention as one of the world's premier spots for kiteboarding and windsurfing, but that's not all Cabarete has to offer. At Casa Linda, we want you to soak up paradise. From beautiful beaches and warm weather to luxurious island living, Cabarete has something for everyone. For nearly 30 years, Casa Linda has welcomed homebuyers looking for fresh island living. Located on the northern end of the Dominican Republic, our community in Cabarete has everything you need to settle down and live like a local. Read on to learn more about why you should live in Cabarete in the Dominican Republic.
Laid Back Island Living
Island living means setting your own pace and enjoying the small things in life. Cabarete offers plenty of options, from soaking up the sun on the beach to leisurely hikes or staying active through various sports and activities like tennis or windsurfing. And if sports aren't your thing, consider visiting a local rum distillery, a coffee factory, or wander through the different historical developments the Dominican Republic has to offer. Regardless of whether you're here to relax or adventure, you'll always find something new to do!
Even though Cabarete is popular with tourists, you still get that small-town vibe from the small yet tight-knit community of expats. At Casa Linda, our gated community offers familiarity and comfort all in one. We believe in treating you like family, which means enjoying private residences, a VIP Beach Club and more.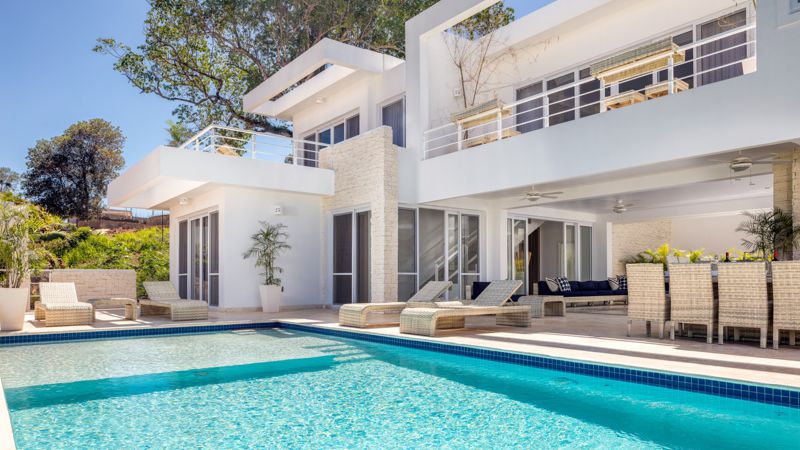 Year-Round Warm Weather
Does the thought of shovelling snow make you shiver? Us too! Thankfully in Cabarete, you'll never have to worry about snow, ice, sleet, or the other problems winter brings with it. Instead, you can look forward to an average of 200 days of sunny 28℃/82℉ weather all year round! At Casa Linda, we can build your dream villa so you can take advantage of the beautiful weather from the comfort of your own island home. Also, since Cabarete is located on the north end of the Dominican Republic, extreme weather like hurricanes are no concern. So you can rest easy knowing your island villa will be safe and secure.
Low Cost Of Living
Living in Cabarete has more benefits than just beautiful beaches; the cost of living is also incredibly reasonable. For example, a retired couple can live comfortably within their means and without sacrificing fun, for about $2,500 USD a month. There are also plenty of well-stocked grocery stores that can get all of your favourites imported in for about the same price as you would pay back home. 
Settling into a new home abroad can be daunting, but with Casa Linda finding your dream villa is easy. Our affordable floor plans make it easy to find a suitable layout for your needs without compromising luxury. With homes starting as low as $200,000 USD, living the island life is closer than you think! There are also plenty of opportunities to make your villa a custom fit for you. From infinity pools to guest houses, lush gardens and more, making your new home just right is easy with our team of builders. 
Ready to Live Like a Local?
Cabarete in the Dominican Republic has so much to offer. Contact Casa Linda today to learn more about your dream villa.