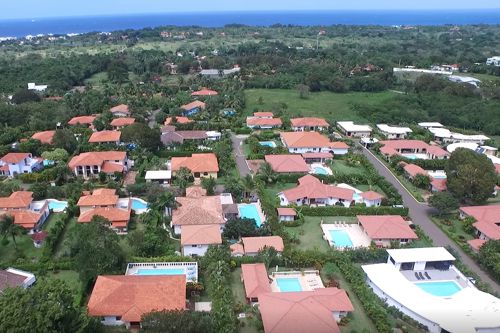 Are you ready for a change of pace? If so, then now is the time to experience luxury, relaxation, and tranquillity in one of Casa Linda's private villas in the beautiful Dominican Republic. Whether you are yearning for a new adventure, lifestyle, or location, Casa Linda's private villas offer the perfect haven to escape the chaos of everyday life and find the serenity you've been dreaming of. Next, we will tell you more about Casa Linda's private villas and our gated communities. Keep reading to find out more! 
Discover Your Private Sanctuary
With Casa Linda, you can enter a world of luxury with our private villas in the Northern end of the Dominican Republic. We offer a variety of villa floor plans to choose from, each with its own unique charm; you can select the perfect home and custom features that cater to your style preferences and needs. From cozy one and two-bedroom retreats to expansive multi-bedroom estates, private pools, outdoor kitchens and more, Casa Linda ensures that your new lifestyle in the Dominican Republic is tailored to you! 
Luxury and Comfort at Your Fingertips!
As you step further into your private villa in the Dominican Republic (DR), you will be captivated by the many luxurious features that await you. Immerse yourself in the beauty of modern kitchens equipped with high-end appliances, allowing you to create your favourite culinary delights easily. The elegantly designed living areas provide the perfect space to kick your feet up, unwind, and spend quality time with your loved ones. Every detail of Casa Linda's private luxury villas has been meticulously thought out to ensure you feel right at home. 
Your Outdoor Oasis
One of the other highlights of Casa Linda's private villas is the charming outdoor space that awaits you. Each of our luxury villas boasts a private pool, inviting you to take a refreshing dip or simply lounge by the water's edge and soak up the tropical sun. Surrounded by lush greenery and the gentle Caribbean breeze, with Casa Linda's villas, you'll find yourself immersed in a true tropical paradise. This outdoor oasis offers our residents a serene escape from the hustle and bustle of the world beyond their doors, allowing them to relax, rejuvenate and find that inner peace they've been searching for.
Plenty of Activities and Experiences
Beyond the comfort of your villa, Casa Linda's gated communities offer an array of activities and experiences to enhance your time with us. Indulge in our many resort-like amenities, such as onsite tennis, bocce ball, and minigolf, explore the nearby pristine beaches of the Dominican Republic, or embark on a hiking expedition to discover the natural wonders the DR has to offer. Our knowledgeable onsite administrative staff, community events coordinator, and owner's liaison are available to assist you in arranging your next adventures and ensuring you enjoy your new life in this stunning tropical paradise. 
Find Your New Home at Casa Linda Today!
Escape, rejuvenate and find the serenity you've been searching for with a private villa from Casa Linda. With numerous floor plans and options to customize your villa, Casa Linda is sure your new life here in the Dominican Republic will be one of tranquillity and bliss.
Are you ready to embrace the opportunity to unwind in paradise? Contact the team at Casa Linda today to learn more about our luxury private villas in the DR!