Make the best choice for your future by choosing a beautiful Casa Linda villa in the Dominican Republic! Casa Linda offers several impressive villas that suit the different and diverse needs of our residents and visitors. Casa Linda villas are built with your comfort and happiness at the forefront of our vision. If you're ready to live your best life in a safe, consistently sunny country, here are some important things to consider before you choose your home.
Sizing Options
Casa Linda villas come in a variety of sizes that support different needs. If you want to set up a home that accommodates several guests, look no further than our multi-master villas like the Villa Dolce Vita or the Villa Atlantis. These luxurious and affordable villas include up to 4 master suits so that you and your guests can live comfortably.
The Villa Dolce Vita includes 4 bedrooms, each with a built-in full bathroom, as well as a half bath in the house. The smaller option comes with 3 bedrooms, each with 3 built-in full bathrooms, as well as a half bath in the home. In addition, these villas include guest suits for any visitors, making sure your guests' stay is as comfortable and convenient as possible.
Our smaller, more comfortable villas are a better option for those who are less interested in entertaining large groups in their home. The Casa Linda Villa Sunset is an excellent example of a cozier villa. The villa features an ample living space of 1,156 square feet, with an outdoor bar and bath. The lot is also large, with an impressive space of 5,382 square feet. This space features 2 bedrooms and the option of 2 or 2.5 baths. This villa also includes a beautiful 8,000 or 9,422-gallon swimming pool with a sunbed area for all your sunbathing needs.
There are several other sizing options available to you and as home builders, Casa Linda also offers customization options, no matter your specific vision. Whether it's a cozy, smaller villa, or a large, spacious, multi-master bedroom home, we've got you covered.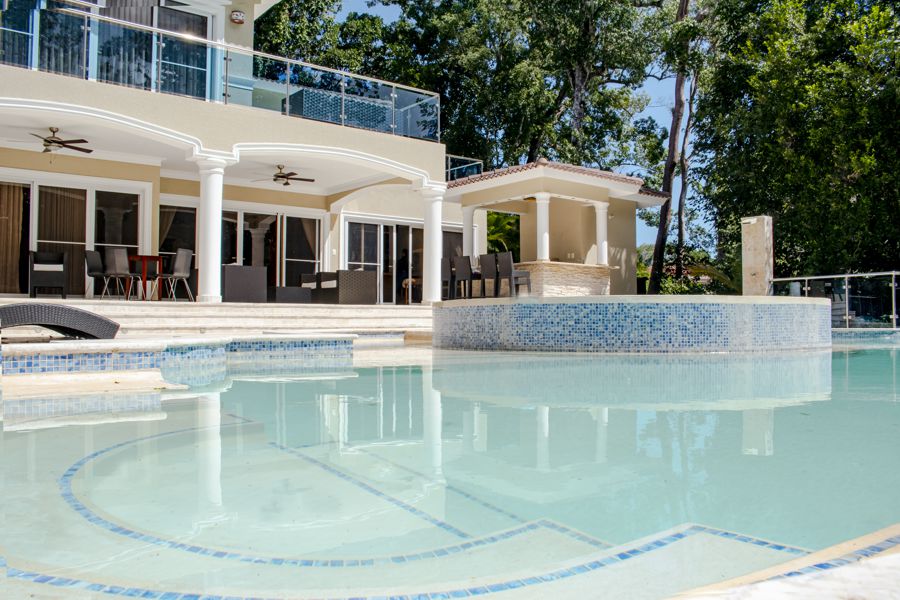 Beautiful Weather Every Day
Looking for a beautiful home in paradise? Our elegant villas are the perfect place for you. Located on the stunning northern side of the Dominican Republic, this beautiful part of the world enjoys an average temperature of 28°C (82°F) year-round. Living in Casa Linda villas means that you get a tropical island experience with the added benefit of safety and convenient amenities.
Comfortable and Convenient
Casa Linda villas are located close to an international airport for travel convenience. A larger, Walmart-sized store is also close by so that you can get all of your shopping done efficiently without having to travel too far. Essential services like hospitals are also available nearby to all our community members.
Travelling for those who cannot drive is also available to all Casa Linda members. Casa Linda is happy to serve you with our shuttle bus that works all day, every day to take you from point A to point B safely and comfortably.
Healthy Lifestyle
Residents enjoy a healthy lifestyle that includes the comfort of the beach and its water sport opportunities. You can spend your morning having breakfast in your backyard, taking in the lush greenery that surrounds your villa. Then, take a trip to the beach where you can enjoy paddle boarding, kiteboarding, and windsurfing, all in the warmth and sunshine of the Dominican Republic.
If you are interested in waterpark activities, we offer a wonderful waterpark with a jacuzzi, a lazy river and fun features for children.
Casa Linda communities also has a strong focus on good, nourishing food. Restaurants with healthy food options on their menus are readily available in the area.
Ready to Check Out Your Options?
Visit our website to learn more about our catalogue of luxurious and affordable villas today.