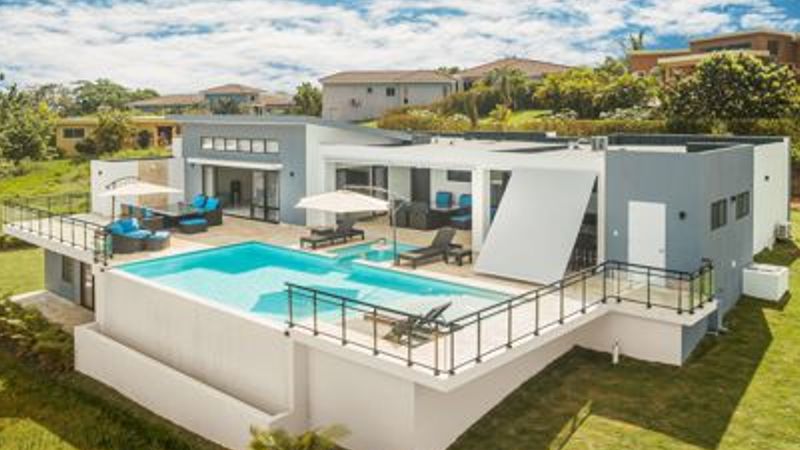 Are you ready to retire to the Dominican Republic? Or you may be looking for a sunny place in the Caribbean to work remotely from. Whatever your reason, the Casa Linda team is ready to help you find your new home in the Dominican Republic with Puerto Plata villas. Read on to learn about some of the villas that Casa Linda has to offer.
Villa Capri
Starting at just $249K USD, the Villa Capri is a 2-bedroom, 2.5-bath Dominican Republic property just waiting for your personal touch. With this villa, you're less than 10 minutes from the best Dominican Republic north coast beaches and within minutes of the beautiful, photogenic Puerto Plata. Villa Capri is one of our best options for an entry-level Dominican Republic property, which comes with staple Casa Linda features like a private pool in your backyard, parking space for both a vehicle and golf cart, and in-house architects that are ready to create a Puerto Plata villa, especially for you.
Villa Vesta
You'll find yourself looking over the water no matter where you look. This Puerto Plata villa is perfect for retirees looking for a 2-3 bedroom home with a private pool, optional poolside bar, covered terrace, and bountiful closet space. The Villa Vesta will give you access to a lovely gated community with a members-only waterpark, minigolf course, and restaurant. Everything in this villa is customizable! Come with a design or come with ideas, and we will work with you to create the perfect Puerto Plata villa.
Villa Dolce Vita
Our high-end luxury Villa Dolce Vita can be customized between 3 and 4 bedrooms and has a pool that's more than 9,400 gallons! If you're searching for a beach home with ample space for your hobbies, we can add in extra rooms! A detached guest house for your friends and family to stay in is more kind to your guests than a simple room, which is why the Villa Dolce Vita comes with a separate building. Complete with a barbeque set, you'll want for nothing in your very own Puerto Plata villa.
Puerto Plata Villas by the Beach
The Casa Linda gated community is less than 7 minutes from the closest beach and 10 minutes away from the best northern coast beaches for when you want some time to lounge in the sand. We design our villas to have large windows to allow as much natural light into your home as possible while accommodating to your wants for your home. Find your community of like-minded people in Casa Linda! Starting at just $229K USD, you can have your very own Puerto Plata villa in the exotic Dominican Republic. With a range of styles, sizes and layouts, Casa Linda has a villa for everyone.
A Little Bit of Paradise
Our villas come in all designs and meet all price ranges. You'll always be surrounded by the beautiful Dominican Republic while maintaining a private escape with your own Casa Linda villa. Come grab your spot in paradise! Casa Linda is waiting for your message.