Contemplating living life to the fullest and starting a brand new adventure in the Dominican Republic? As the most visited country in the Caribbean, the Dominican Republic is known worldwide as a beautiful paradise full of tropical greenery, endless sandy beaches and no shortage of ways to explore. As one of the premier builders on the island, Casa Linda is proud to welcome you to the beautiful island we call home, and to help you prepare for your new life abroad. For nearly 30 years we've partnered with expats from all over the world to help them build their dream custom villas and settle down in comfort. Below, we've compiled a quick list of FAQs to help you get the low down on life in the DR. Read on to learn more!
Q: Where is the Dominican Republic?
If you've never visited and are eager to get a closer look at the island before considering buying a home, the Dominican Republic is located on the island of Hispaniola, between the Caribbean Sea and the Atlantic Ocean and southeast of the United States.
Q: What is the national language of the DR?
Spanish. However, for those who aren't fluent, there's little need to worry. The DR has a flourishing population of English speakers that includes both locals and expats. The northern end of the island, where Casa Linda's community is located has a high density of English speakers making it easy to navigate. With that being said, you'll always find that you get the most out of your new home if you're able to embrace the local culture and start learning conversational Spanish.
Q: How stable is the economy/government?
This is one of the more most frequently asked questions and for good reason. Fortunately, there's absolutely no need to worry about the government or the economy in the Dominican Republic. The DR is an incredibly stable country and has one of the strongest economies in Latin America, meaning you can rest easy knowing your investment in buying a home here will always be the right choice.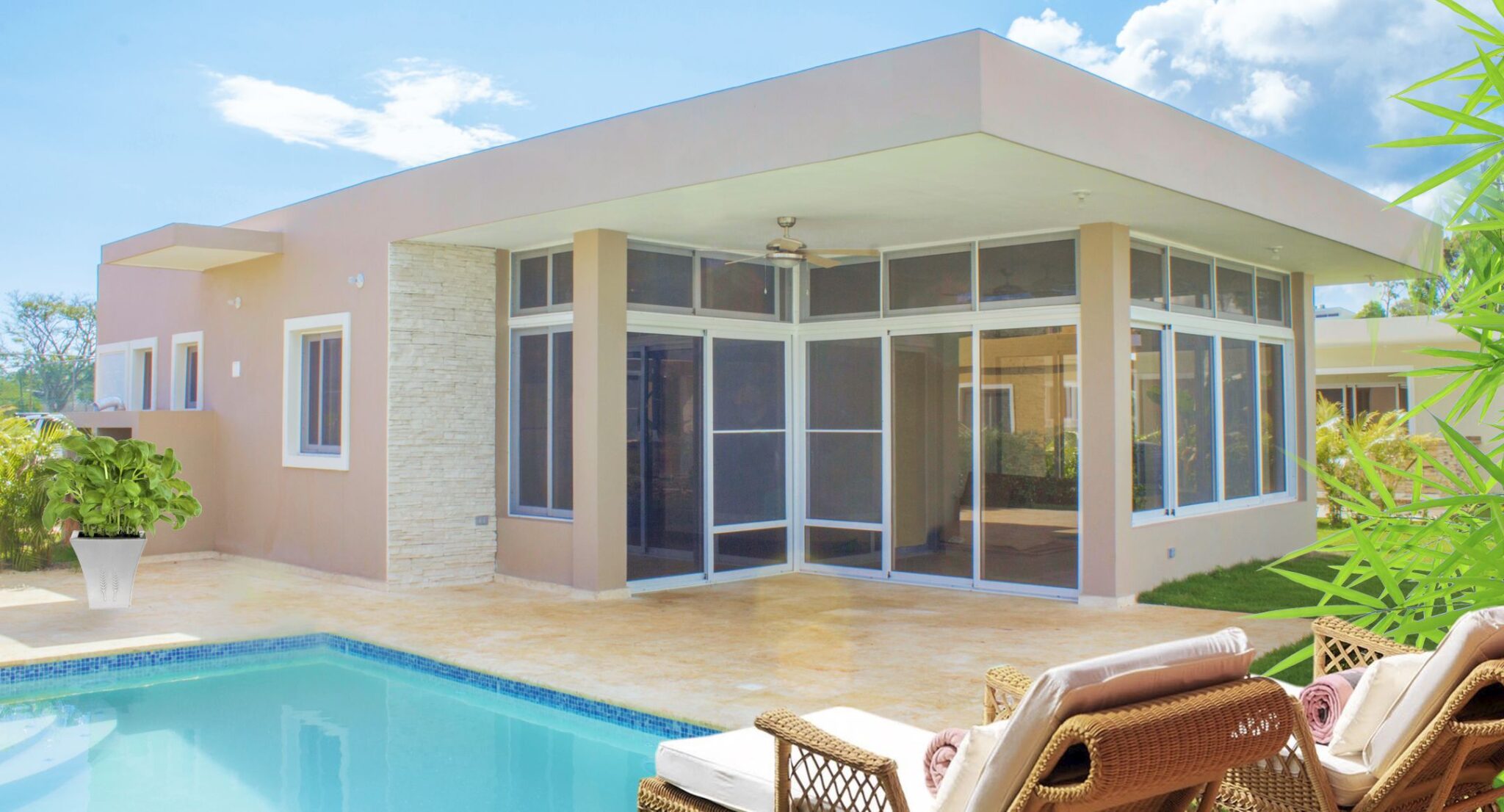 Q: What is the average daily temperature? Do I have to worry about hurricane season?
Winter begone! The average temperature hovers between 24-28°C (60-80°F) in the DR. Those worried about hurricane season have no need when relocating to the northern end with Casa Linda as this portion of the island is sheltered from severe weather.
Q: How long can I stay in the Dominican without a residency permit?
This is one of our most asked questions, as well as one of the most important to know the answer to!
Per the government of the Dominican Republic, non-residents can stay up to 30 days per visit without a residency permit. This visa is extendable up to 90-days as well should the need arise. For those who wish to settle in and stay longer, residency is a relatively simple process involving paperwork from your home country disclosing your income, health, birth certificate, criminal record, etc.
Q: Do Foreign buyers have the same right as Dominicans?
Yes! Unlike many other countries, the DR imposes no restrictions on foreigners when it comes to purchasing real estate, and offers the same legal rights as DR citizens.
Q: What kind of health/medical care is available?
If you're worried about the quality of care you'll receive in the DR, you can rest easy. The Dominican has fantastic and easily accessible healthcare available, including specialist services offered in English. With first-rate facilities and healthcare providers readily on hand, you'll always be well taken care of.
Q: What is the Cost of Living?
In a word: affordable. One of the best aspects of moving to the Dominican Republic is that your dollar goes farther in almost every way. From villas starting as low as $199,900, to significantly cheaper produce and meat that saves on groceries, cheaper healthcare (including competitive insurance rates), and more, retirees, in particular, will be pleased to realize how much more they can do with a small monthly budget!
Q: How can Casa Linda help me make my tropical dream a reality?
By building you the villa you've always wanted! As one of the most trusted builders in the DR, our team is proud to partner with you to create the perfect space in paradise. From 2 bedroom bungalows to sprawling 5 bedroom manors, we're here to help you create the right fit from the ground up. With 10 villa floor plans to choose from, all that's left to do is customize and watch as your dream comes to life! Learn more by contacting our team today!