Have you been searching for the perfect destination to move abroad and settle down in paradise? From retirees looking to spend their new free time writing a fresh chapter in life to entrepreneurs, work from home converts, and anyone looking to escape cold weather, there's never been a better time to consider moving abroad to Cabarete in the Dominican Republic. With mile upon mile of white sandy beaches, breathtaking beauty around every corner and plenty of other perks to enjoy, it's no surprise that locales like Cabarete have become some of the most in-demand spots for those looking to move to the island. Casa Linda is proud to feature our exclusive gated community just outside of Cabarete and to help you find the perfect home in paradise. Learn more about the perks of living in the Dominican Republic, as well as a brief overview of our available floor plans below!
Quality of Living You Can Count On
Moving abroad is a major decision that, understandably, can often be a huge source of anxiety as well as excitement for couples. It's easy to feel a surge of happiness when contemplating spending your days on the beach, but it's also perfectly normal to feel a little nervous when considering the many details you need to be covered. One of the primary concerns facing any ex-pat is continuing the same quality of life, or (preferably) enhancing it with their move. Factors that influence quality of life include healthcare, housing, infrastructure and political stability, all of which the Dominican readily offers to newcomers and prospective residents. With a world-class healthcare system, thriving real estate market that is affordable, and trustworthy government that provides ample incentives for foreign buyers, settling in the DR is an investment that you can trust in both from a financial and happiness perspective. For added peace of mind, Casa Linda luxury villas are located within a gated community where you will enjoy a host of amenities as well as an environment that is safe and secure.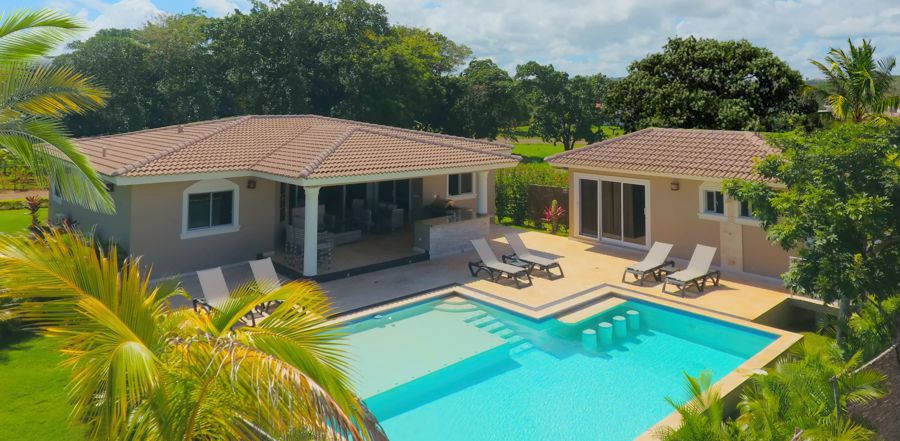 Life on the Island
Are you ready to enjoy a slower lifestyle that's less focused on running the daily rat race? Island living is the perfect way to relax and unwind without the typical stress that you've been accustomed to over all these years. With a welcoming community on your side and the ability to live life at your own pace, you'll find it easier than ever to leave the cold and snow behind, and write the next chapter of your life from your new Casa Linda home.
Our Floor plans
Casa Linda currently offers 10 different floor plans to design your villa, each of which can be customized to create the perfect fit for your needs. Ranging from 2 bedroom bungalows to 4 bedroom estates, each of our homes comes with a private swimming pool and landscaping, and for those in need of extra space, an additional guest house can be added to the property.
Contact the team at Casa Linda for the best luxury villas available in the Dominican Republic and don't miss out on your chance for island living today!