Look forward to a beautiful life with Casa Linda's Villa Atlantis. This stunning villa is just one of Casa Linda's exceptional offerings. As a spacious and luxurious option for anyone looking to make a move to the tropical Dominican Republic, The Villa Atlantis is a gorgeous choice. The Villa Atlantis includes 4 bedrooms, 4.5 baths, and an outstanding 18,000-gallon pool.
With these features, you get everything you need to start your journey in paradise. Not only do you get the benefits of a luxurious home in the Dominican Republic, but you also get the benefit of a vibrant community where you can make meaningful connections. Keep reading to learn more about how Villa Atlantis and Casa Linda communities could be the right lifestyle upgrade for you.
Classic Style/Luxury
Enjoy the luxurious experience of a Mediterranean courtyard home with Casa Linda's Villa Atlantis. This space offers a gorgeous open kitchen. You get plenty of cabinets and counter space so that you can enjoy your meals in the comfort of your kitchen if you wish.
There is also a breakfast bar, an outdoor wet bar, and a BBQ area for those outdoor hangouts. With the master bedroom, you get to enjoy an en-suite space with large closets to offload all your luggage comfortably. Even the additional guest houses include full baths and enough room for a king-size bed.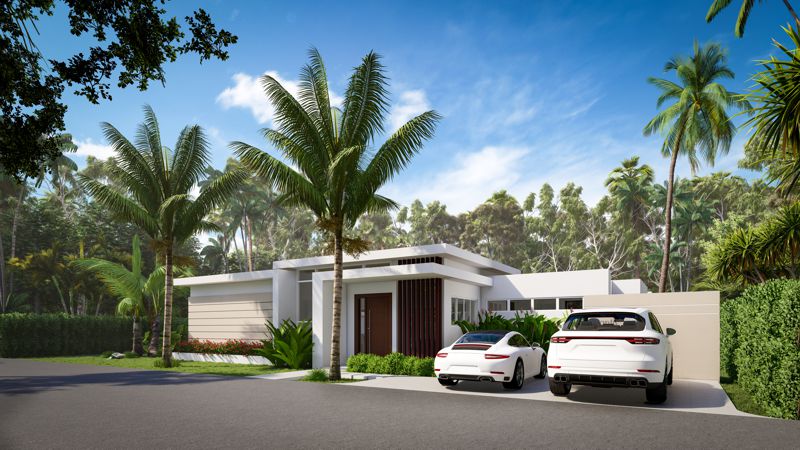 What You Get With Villa Atlantis
For the price of $510,700 US, Casa Linda is proud to offer you all the benefits of Villa Atlantis. The cost includes:
The lot
Construction of the villa
All landscaping
The swimming pool
The service building for the pool equipment/storage
With an impressive size of 3,068 square feet for the villa and a massive area of 10,764 square feet for the lot, this sizable living space gives you the most impressive features possible. The best part is you get to enjoy a large swimming pool that holds a whopping 18,034 gallons of water. With these stunning features, you can trust that Villa Atlantis will change your lifestyle quality for the better.
As custom home builders, we also offer customizable features for your villa. If you are looking to add your flair to your new home, we will work with you to make that vision a reality. We have in-house architects and designers ready to make your dreams come true and give you the best home that perfectly fits all of your specifications.
Want to Learn More?
Contact our team today to learn more about the endless list of benefits you get by choosing the luxurious and spacious Villa Atlantis.