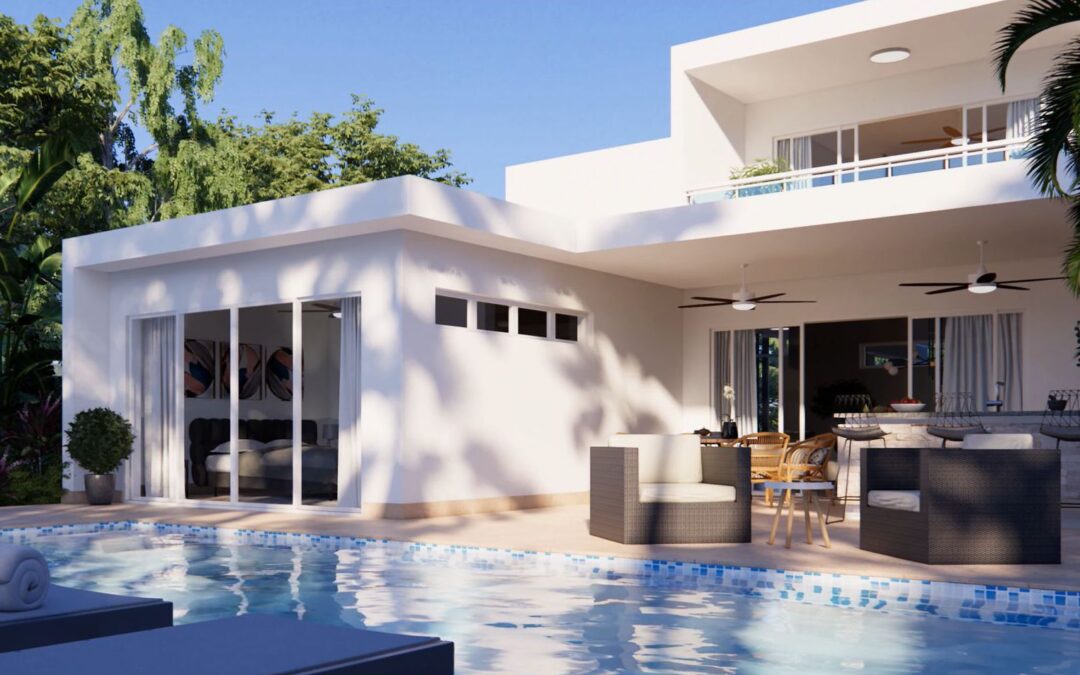 Now that we've seen luxury villas under 300,000 USD, like Villa Capri and luxury villas under 400,000 USD, like Villa Sunbreeze, we will highlight our most luxurious villas in the Dominican Republic under 500,000 USD. Learn more below!
Villa Bluepearl
Villa Bluepearl is one of our larger luxury villas with 2062.3 ft2 (206 m2) living space, two bedrooms, 2.5 baths and a 9,437-gallon swimming pool built on a 5,920 ft2 (550 m2) lot! Enjoy the outdoor bar, open pool area, and large bedroom with private bathrooms for 439,000 USD!
Villa Areca
Featuring glass doors, large windows, and an open plan living room and kitchen area built on a 6,458 ft2 (600 m2) lot, Villa Areca is one of our most popular and affordable luxury villas under 500,000 USD! You can choose the 2-bedroom and 2.5-bathroom Villa Areca with 2,064 ft2 (191.75 m2) living space and 9,498-gallon swimming pool or the 3-bedroom 3.5-bathroom 2-story Villa Areca with 2,392.5 ft2 (222.27 m2) and 9,498-gallon swimming pool from 409,000 USD!
Villa Bella
For 429,000 USD, you can enjoy our unique bungalow-style Villa Bella, that's the perfect size for a big family. Villa Bella features three bedrooms, each with private baths, a 12,740-gallon pool and 2,069.9 ft2 (192.3 m2) living space. The villa also features a big terrace with a covered area and an outside cooking spot to enjoy BBQ nights, pool parties and other fun activities all day long!
Full Villa Management Services
Many of our international buyers often escape the cold for a few sunny months and go back to the US or Canada once the weather gets better. Casa Linda offers complete villa management services, including our lock up and leave service, where our local management partners are available to:
Provide full maintenance services for all major and minor issues with appliances, pool, roof, plumbing, electrical work (etc.)
Service the pool and garden (one to six days a week)
Ensure your villa is properly monitored in your absence
Provide housekeeping services (one to six days a week)
Provide an emergency point of contact in The Dominican Republic.
Our knowledgeable and friendly English-speaking staff will always be available to make your Casa Linda experience worry-free!
The Community at Casa Linda
At Casa Linda Quality Communities, we offer great villas and a wonderful lifestyle that includes a friendly and active community! Our full-time travel planner and concierge plan events and tours that include shopping, movie nights, fishing, games and dance nights to keep the fun going all year long! At Casa Linda, we're here to help you live your life to the fullest!
Ready to Start Your Casa Linda Experience?
Whether you're a part-time or a full-time resident, you can enjoy a worry-free Casa Linda experience! Our fully staffed administration office is always available on-site to assist you with all your needs! Interested in a test drive? Visit us and stay in one of our vacation villas, where our staff will give you a thorough tour of our project and the Caribbean lifestyle! Best part of our test drive? If you buy a new villa, we'll reimburse you 1,500 USD towards your flight!
Contact Casa Linda Today!
Call us toll-free at +1 (844) 872-8686 or chat with one of our representatives through our live chat!