Ready to put that snow shovel away for good? Casa Linda's prepared to help you make snow a thing of the past with our luxury villas in the Dominican Republic. Our gated community is located on the island's northern end in charming Cabarete. We offer free in-house architectural services so our buyers can customize the villa of their dreams. For nearly 30 years, Casa Linda has been building dream homes for folks looking for the peace and tranquillity island living offers. Keep reading to learn more about villa floor plans at Casa Linda.
Island Living Made Easy
Are you still dreaming of retiring on an island with a beautiful villa to call your own? Casa Linda can make those dreams a reality. Our homes are crafted from high-quality materials and designed to meet each of your needs while also being uniquely suited to you. Are you interested in adding a custom feature to your villa, like an infinity pool or guest house? No problem! We offer a range of customization options for each of our floor plans. From comfortable 2-bedroom bungalows to spacious 5-bedroom villas that have room for the entire family, Casa Linda's properties make it easy to enjoy a home in paradise.
Villa Sunset
Picture this; sunshine streams through glass doors along the back and side of your very own villa. While you entertain guests, large windows in the great room and kitchen can open to let a sweet tropical breeze flow throughout the open floor plan. Every room in the house has an incredible view of the yard, pool, and covered terrace. Sounds like paradise, right? Well, Villa Sunset could be your new island home today! This cozy villa has two bedrooms and two bathrooms and makes the perfect vacation or retirement getaway without breaking the bank.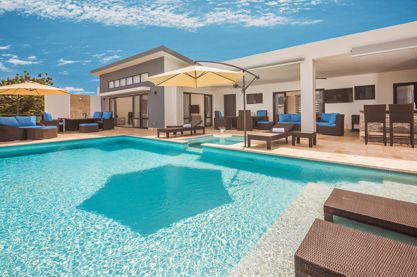 Villa Bluepearl
The Bluepearl is a versatile floor plan available in either two or three bedrooms and 2.5 or 3.5 bathrooms with 2228 sq ft or 2471 sq ft, respectively. This villa is designed to be all about relaxed island living. Have a drink on one of several terraces or enjoy the outdoor bar and open pool area; entertaining has never been easier. Whatever paradise looks like for you, Villa Bluepearl is sure to be it.
Villa Harmony
Is space your number one concern? Villa Harmony is sure to satisfy all of your needs with over 2600 sq ft of room and a 15,000-gallon swimming pool. This spacious 3-bedroom floor plan offers private separated bedrooms and three full baths. It's has been designed for effortlessly entertaining family and friends, especially in the luxury chef's kitchen, where you can find a substantial central island. This villa is sure to be your perfect jungle bungalow!
Ready to Learn More?
At Casa Linda, we believe the best way to see if you like a place is to "live like an owner." Contact us today to learn more about renting or buying one of our luxury villas.