Are you ready to trade in long dark winters for warm sunny days in paradise? Moving to the Caribbean is an incredibly exciting decision, and can be the perfect way to start fresh after retirement and enjoy a much more relaxing lifestyle. If you're looking to embrace the call of the island, the DR is the perfect place to settle down. Learn more about what to expect when it comes to life in the Dominican, as well as the many custom villas available with Casa Linda below!
An Easy Choice
If you and your loved one have been considering relocating to somewhere warm, you've no doubt spent some time looking at the many options available. Expat life can be a thrilling adventure, but requires some initial homework to discover the best location for your needs. While popular destinations like Mexico, Belize, and other countries throughout Latin America drive a lot of interest, there are many reasons why the Dominican Republic remains a steady favourite among retirees and investors.
Why? Along with having the strongest economy in the Caribbean and one of the most stable in Latin America, the Dominican Republic offers residents access to world class medical services, a straight forward residency application, better value per dollar, access to your favourite brands, and more.
About Residencial Casa Linda
For over 20 years, Residencial Casa Linda has been one of the foremost home builders on the north coast of the island. We're proud to have a reputation for crafting state-of-the-art villas for our owners, and providing a warm and welcome community that makes it easy to live the "Tranquilo" (laid back and relaxed) lifestyle. Casa Linda offers our residents the whole package, from private villas, to the perfect location, to an upcoming VIP Beach Club, and more.
Welcome Home
Casa Linda offers homeowners a wide variety of options when it comes to creating your dream slice of paradise. Our floor plans feature plenty of space for the whole family to enjoy, with a wide range of features designed to help you make the most of your custom villa. Standout floor models include: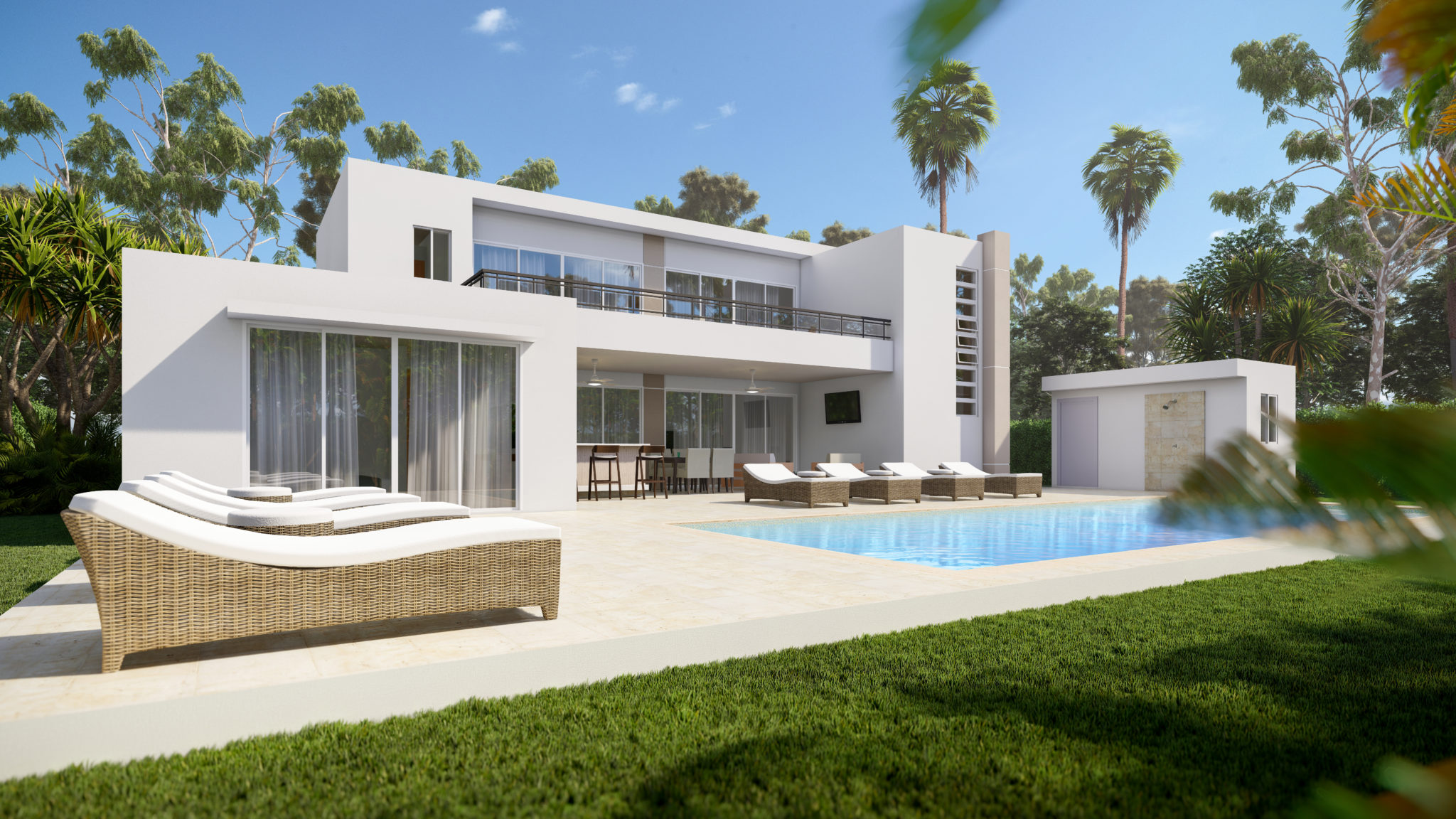 Villa Seashell
Featuring 3 beds, 3.5 baths, a 12,700 gallon pool and 2462 sq ft to enjoy, the ultra modern layout of our Villa Seashell is designed to take advantage of breezes and views. Multiple terraces and balconies make this home ideal for sunbathing, and the spacious living rooms are perfect for entertaining. Each bedroom has its own full bath for your convenience, and leads outdoors to the gorgeous infinity pool and sunbed area. View the floor plan here!
Villa Sunseeker
The Sunseeker is a versatile floor plan available in either two or three bedrooms and two bathrooms with 1219 sqft or 1557 sqft respectively. The villa is designed to be a bright, spacious home, with sliding glass doors, plenty of counter space as well as a large covered terrace. Bedrooms are spaced on opposites of the home, allowing for complete privacy.
Learn more about these homes, as well as life with Casa Linda by contacting our team today!