Looking for a beautiful home in the Caribbean? Casa Linda has you covered! With over 10 luxurious villa floor plans in the sunny country of the Dominican Republic, Casa Linda's options leave something for everyone. Read on to learn about our villa floor plans today.
Imagine Your Dream Dominican Lifestyle!
Everyone has a different reason for choosing to move abroad. For some, it's the need for excitement and adventure. For others, it's the ability to relax, and for many, it's about enjoying an affordable lifestyle that allows you to maximize each day without overspending your budget. Life in the Dominican allows you to make every dollar go further, and Casa Linda is here to help you find the home of your dreams. Some of most popular villa models include:
Villa Sunset
Sit by the pool and enjoy a cocktail with your brand new Villa Sunset! The Villa Sunset is the perfect Caribbean home. This villa is designed to let the natural light and beauty into the space with large windows that frame the outdoor scenery perfectly.
This villa comes with the lot, the landscaping, construction of the villa, swimming pool and the pools service building. The Villa Sunset is a gorgeous 2-bedroom, 2-bathroom villa with customizable options on all features. The following is a list of sizing options, which includes pricing:
Option 1: Villa & Lot
Living Space: 1,156 ft2 (107.4 m2 )
Lot: 4,306 – 5.382 ft2 (400 m2)
8,000 Gallon Pool
$207,300
Option 2: Villa, Lot & Outdoor Bar/Bath
Living Space: 1,349 ft2 (125.3 m2 )
Lot: 4,306 – 5,382 ft2 (400 m2)
9,422 Gallon Pool
$230,200 US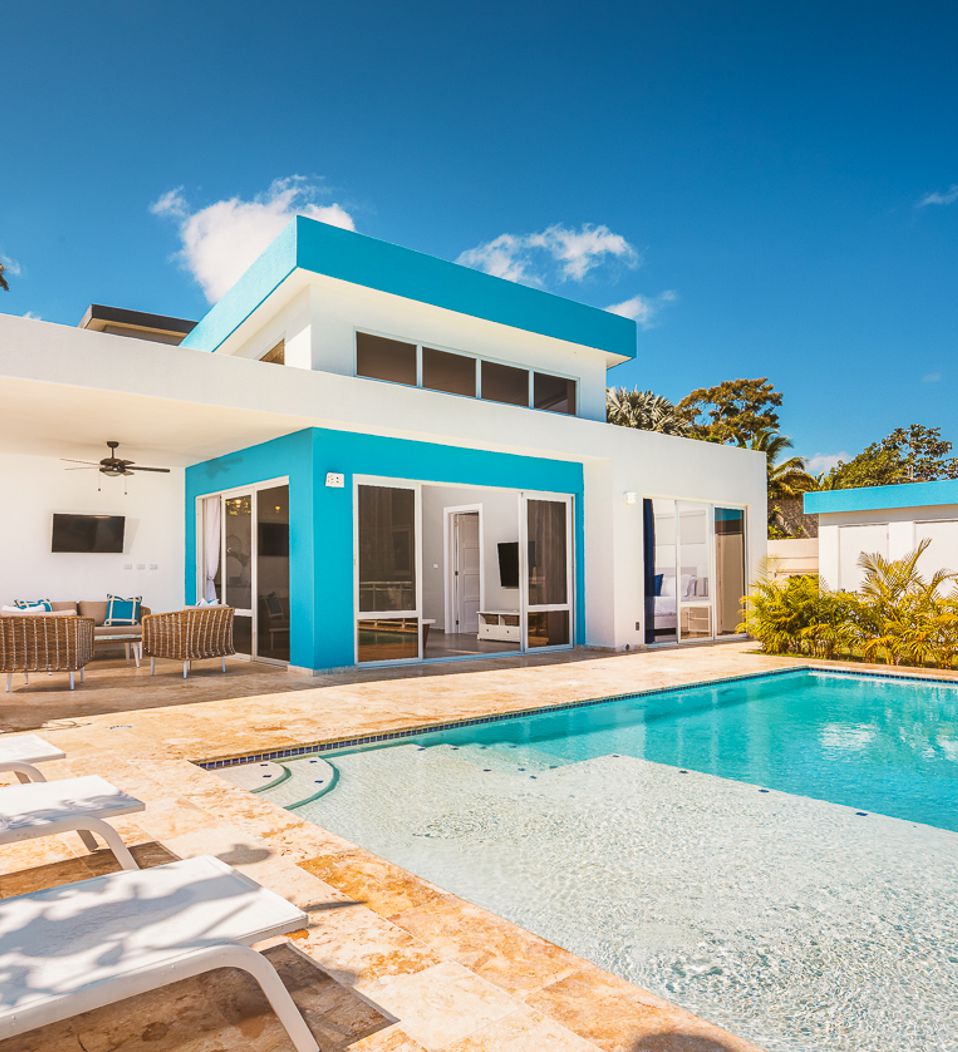 Villa Seashell
The Villa Seashell is a stunning 3-bedroom, 3.5 bathroom villa that is sure to give you a taste of luxury. The Villa Seashell is a modern, Mediterranean villa with great views and a stylish layout. It is easy to enjoy entertaining guests thanks to the large two bedrooms and comfortable great room.
This villa also has a beautiful outdoor area with a pool, deck, and a full outdoor bar and entertainment area. With this outdoor layout, your guests can enjoy the tropical breeze and gorgeous sunshine from the comfort of your home. This expansive villa also comes with customizable options on all features.
Specs:
Living Space: 2,790 ft2 (259.2 m2)
Lot: 7.535 ft2 (700 m2)
12,700 Gallon Swimming Pool
$422,900 US
Let Casa Linda Tranform Your Life
Casa Linda villas have been transforming lives for over 20 years. We are proud to make your vision for your home happen with our fully customizable villas. We make sure that your new home in the Dominican Republic is suited to your unique needs and can work with you to make sure everything is to your standard.
Ready to Learn More?
Contact us today to get started!