Have you been dreaming about transitioning from snowbird life to making a permanent move to an island paradise? If you're ready to kiss winter goodbye forever and bask in over 300 days of sun each year, the Dominican Republic is the perfect destination to embrace beachfront living. With breathtaking views, a stable economy, and a vibrant ex-pat community, you'll find settling in is easier than ever. Learn more about life in paradise below!
Welcome Home
Did you know that the Dominican Republic is one of the most popular destinations for retirees and expats when it comes to choosing their home abroad? Beyond having plenty of natural beauty to enjoy, the DR has plenty of practical perks that make relocating ideal. For those looking to make a solid investment in a full-time or vacation property, the Dominican government's open attitude towards foreign buyers makes purchasing easy, as does the lower cost of living. With housing available at multiple price points and a stable overall economy that makes it easy to invest confidently, new residents will enjoy countless benefits thanks to the Dominican's advanced infrastructure including high-speed internet, cable television, reliable electricity and more.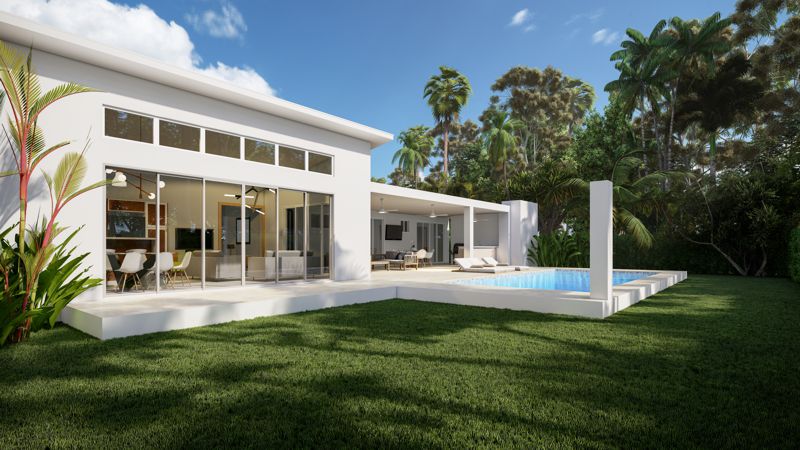 Exceptional Quality of Life
Whether you need dependable healthcare to address current concerns or simply want peace of mind for the years ahead, many expatriates are pleased to learn that the Dominican Republic is home to a world-class healthcare system that provides exceptional medical services out of state-of-the-art facilities. With highly trained professionals that offer care in English as well as Spanish, and lower costs for procedures and medication, ensuring you have the help you need is easy.
Meet Casa Linda, Your Source for Island Living
Nestled on the northern end of the island, Casa Linda is an exclusive villa community that offers residents enhanced privacy and safety, a vibrant community of peers, and stunning homes at price friendly starting point. We offer ten different villa layouts. With sizes ranging from a two-bedroom bungalow all the way up to a five-bedroom villa, there's no shortage of ways to make sure you have ample space. Take a look at one of our standout models, Villa Vestra:
Villa Vestra offers you the choice of 2-3 bed and 2.5-3.5 bath and starts at $249,900. The Vesta floor plan was designed with views in mind and affords plenty of opportunities to take in the natural beauty that surrounds you. With your very own private pool, large entertaining area, covered terrace, and endless options to customize, Villa Vestra might just be your perfect fit in paradise!

Ready To Say Hello To Island Living?
Contact us today and let's get started on the design and construction of your tropical dream home!