Are you yearning for long days by the beach, enjoying sunny paradise delicious cocktails at an affordable price? If your answer is yes, then the Dominican Republic is the place to be. Casa Linda offers a wide variety of villas in the DR for your budget. You can enjoy fantastic weather, world-class medical services and a great community at a cost you can afford! When you're looking for a place to relax, lay back and settle down, you should never have to compromise your comfort for the price. Casa Linda Quality Communities is proud to offer you easy access to luxury villas with all amenities available within your budget! The Dominican Republic is the place to be, and here is why:
Beauty for Everyone
Did you know that the Dominican Republic is one of the few expatriate-friendly countries that doesn't have minimum age requirements? You can now retire at ease with a little planning and research. Casa Linda is here to help you call the DR home and ensure you have all the information you need. Retirement should not be tied with age; on the contrary, you should be able to retire whenever you please.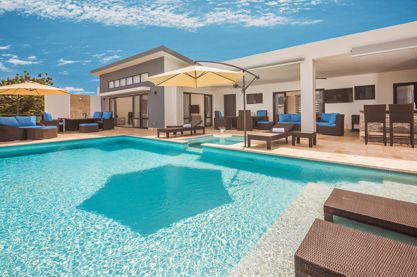 Low Cost of Living
Worried about maintaining the lifestyle you're comfortable with when moving abroad? Fear not! The DR is one of the least expensive places to reside in Latin America; your day-to-day expenses are significantly less than your average day in the US or Canada. Your monthly budget will vary according to your costs; however, you can generally expect lower prices for your everyday purchases than back home. You get to spend LESS all the while enjoying amazing weather and delicious food.
Whether you choose to rent or buy a villa, you will definitely enjoy a much more affordable and luxurious lifestyle in the DR. You also experience top-notch medical services at a reasonable price in the DR, meaning that you never have to worry about the quality and costs of essential care either.
Customize Your Villa
Casa Linda Quality Communities offers you ten different layouts to choose from when building your villa, as well as fully customizable options to help make your home feel just like…well, home! You can either purchase a two-bedroom bungalow that starts at $199,000 or select from other floor plans that range up to five bedrooms! Each of our villas features a luxurious pool as the perfect complement for warm sunny days, giving you endless opportunities to create your dream space in paradise. Looking for sliding doors? Swimming pool? Bar? Maybe even an entertainment area? We've got you covered. You can either choose from our wide range of villas or customize your villa your way. With Casa Linda, your luxurious villa is affordable and just a phone call away!
Invest In Your Future
Contact us today to get started on your new home! With Casa Linda, you can build the house of your dreams in paradise at an affordable price. Find out how by giving us a call!