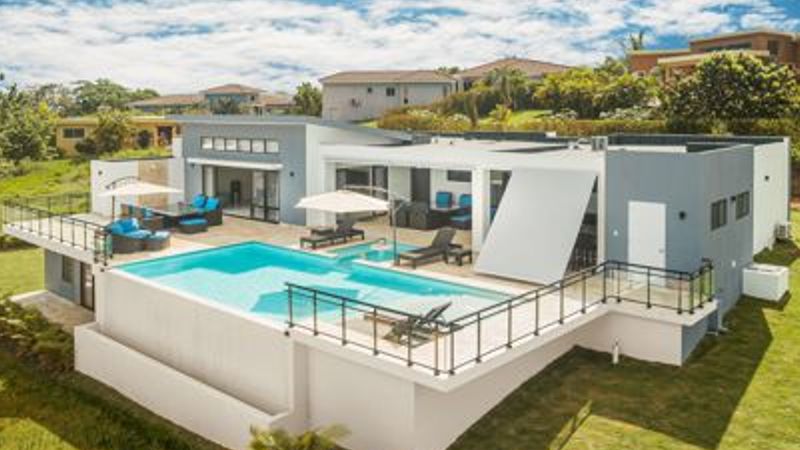 Imagine having a private villa when you go on vacation; a space without neighbors that listen through the walls, with your own private pool, and with your own (kitchen) island? Your next vacation could be the start of something amazing when you work with Casa Linda. Access to Dominican Republic (DR) beaches and the beautiful weather that comes with it is more than enough reason to visit: Now you must find the perfect Casa Linda villa! Keep reading to see why our Villa Vesta model is our clients' top pick.
The Villa Vesta 
Stunning modern architecture and perfect vacation weather makes up just a small part of this villa's charm. Watch the stars from the comfort of your own outdoor lounge, host a cocktail party with your included outdoor bar, or simply watch the sunsets from the floor-to-ceiling windows built into every Villa Vesta home. In the rainy season, snuggle up in your comfy indoor lounge and watch the rain fall while staying dry.
At Casa Linda, we make sure our villas include all the essentials (as well as the best non-essentials) to ensure all of our clients have everything to make a memorable life in their Dominican home. That's why the Villa Vesta comes with the option of two or three bedrooms, each with its own full ensuite bathroom for the comfort of everyone staying at the villa. If you're looking at the 3-bedroom model to make that extra room for grandkids, don't worry about running out of luggage space! The home has been designed with indoor and outdoor storage in mind, ensuring that you and your guests have ample room for belongings. 
A spacious park pad is included with this Villa: no more worrying about fitting in a tight parking spot! With a large private pool, wide living space and extra room for tropical landscaping, the Villa Vesta gives the perfect blend of affordability and high-end luxury. The Villa Vesta starts at only $359K USD for a 600 meters-squared lot.
The Heart of the Caribbean
Here at Casa Linda, we make sure to care for our clients before, during and long after the build is constructed. We have an Owner Liaison at your disposal should anything happen that needs attending to. In addition, we make sure our prices are affordable without skimping on the quality. This way you can enjoy your stay in the heart of the Caribbean without sacrificing your hard-earned retirement income.
Vibrant coral reefs, white sand beaches, trailing mountains: North Coast Dominican Republic has it all! Our weather floats around 82° Fahrenheit (28° Celsius) year-round, so don't worry about waiting out the off season for your trip. Casa Linda villas are built in arguably the most charming part of the DR, and there's space for you and the grandkids in your very own Villa Vesta.
Do Retirement, Your Way
Villa Vesta is your next big move. Find your place among the welcoming people of the DR in your very own gated community of like-minded retirees. Are you ready to join us? We are waiting for your message!