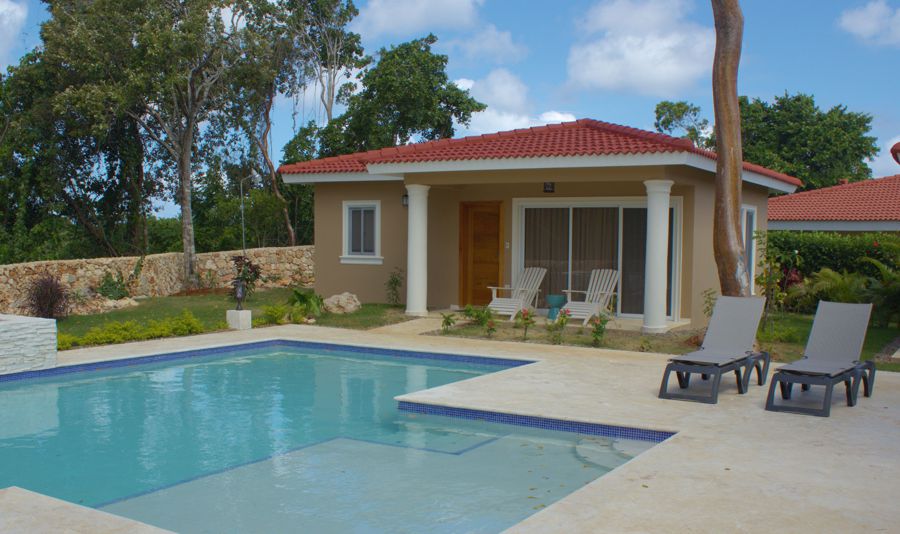 Looking for a getaway from the harsh, cold winters back home? Dreaming of basking in the sun, running by the ocean and feeling the cool breeze during the months of December until April? Casa Linda Quality Communities is proud to present you with affordable and luxurious villas right in the heart of the Dominican Republic. You can now escape the snow and enjoy your winter by relaxing by the ocean or taking a dip in your own personal outdoor pool!
The Dominican Republic has an average temperature of 28º Celsius (82º Fahrenheit) which offers you over 200 days of Caribbean sunshine. The Dominican Republic will always be a fun, tropical paradise, no matter the time of year. For more than forty years, expats have found their home in the Dominican Republic, creating a large foreign population that will definitely make you feel at home. Ready to start discovering the beauty and culture of the Dominican Republic? Check out our villa floor plans below!
Villa Sunset
Villa Sunset is perfect for a family of 2 – 4 members looking to enjoy the Caribbean lifestyle in an affordable yet luxurious home. With a living space of 1,118.3 ft2 (103.89m2), Villa Sunset offers you two spacious bedrooms with full baths. The picturesque view of the yard, pool and covered terrace can be seen from every area of the villa as it is designed with glass doors and large windows to allow sunshine streams all day long. Starting at $229,000 USD, Villa Sunset can be your winter getaway home. The price includes the villa, lot, swimming pool, landscaping and service building. This smartly designed floor plan maximizes the space to offer you a spacious and luxurious villa.
Villa Seashell
Individuals looking for an ultra-modern luxurious villa that offers several terraces and numerous balconies find villa Seashell to be their second home. This two-level villa is designed with two living room spaces for private and diverse entertainment options. All three bedrooms have full baths that lead to your 12,710 gallons swimming pool with a sunbed area. If you're looking for a spacious villa to accommodate more family members or throw unforgettable entertaining gatherings, villa Seashell is the place for you.
Guest Houses
With any of Casa Linda's villa floor plans, you can always request adding a guest house to your villa. A guest house is an excellent way to offer your relatives or guests a retreat space and privacy during their stay. You can choose from 3 different guest house options to accommodate your needs. Adding a guest house to your villa will allow your family and friends to seamlessly visit and enjoy their stay without the trouble of finding a hotel or rental options nearby.
Build Your Winter Getaway
For more customizable options, Casa Linda offers our customers the ability to fully design their dream getaway. Whether you're looking for additional upgrades such as a jacuzzi, a rooftop terrace or even adding on space, Casa Linda can provide you with any upgrades your heart desires. Casa Linda can also provide you with the opportunity to construct and design a custom-built floor plan for your villa.
Life in Paradise is Waiting for You
Contact us today to get started on purchasing or building the house of your dreams! With Casa Linda, you can live a life in paradise at an affordable price.