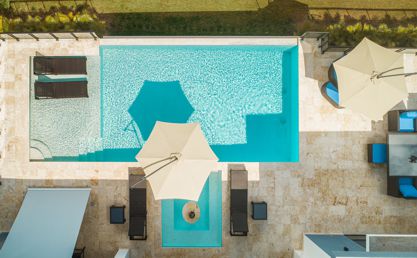 Your Perfect Villa
is waiting for you at casa linda
Ready to make a change and enjoy a life full of fun and relaxation? Whether you're getting ready to retire or looking to up your work-from-home or daily office commute (who doesn't want to work from the beach!), relocating to the Dominican Republic is a great place to settle down and embrace the Life Tranquilo!
Located on the northern end of the island, just outside of Cabarete Casa Linda Quality Communities' exclusive dated development offers stunning custom villas at affordable prices so you can live in paradise without having to overspend! Below, we'll take a quick look at the benefits of living in the DR with Casa Linda. Read on to learn more!
Why Choose the Dominican?
The Dominican Republic has become a popular destination for expatriates thanks to its low cost of living, stable economy and government, affordable housing, year-round sunny weather (daily temperatures average 28°C/82°F) and the world-class healthcare system. In addition to an incredibly friendly community of locals and fellow expatriates, many newcomers are thrilled to find that life in the DR is just like home…only warmer!

Welcome Home
When settling abroad, it's important to find a new place that truly feels like home. Our goal at Casa Linda is to give you everything you need to settle in quickly. Our welcoming community of ex-pats treats you to all the benefits of living in paradise and stunning floor plans that can be customized to your taste. Casa Linda's property offers luxury-oriented benefits like:
24/7 security
Numerous social activities and events to help you get to know your new neighbours
A VIP private beach and clubhouse
Access to exclusive restaurants and more.
Whether you're looking for the perfect snowbird escape, an unbeatable work-from-home office, or simply a change of pace, Casa Linda villas in the DR are ready for you!

Floor Plans
Casa Linda features a wide range of luxury villa floor plans for optimal comfort and convenience for you. Each model has something new to explore, with options ranging from intimate two-bedroom villas to spacious five-bedroom bungalows; we are sure you'll find a floor plan that fits you.
We also know that it's important to have the opportunity to create a space that truly embodies who you are and the lifestyle you want to live in Cabarete. That's why we give you the chance to incorporate several custom features to ensure your villa is the perfect fit for you. Our in-house team of architects can make your villa custom suited to you with some of the following options:
Swim-up bars
Infinity, saltwater, or mirror pools
Living walls
Guesthouses
Outdoor kitchens
Jacuzzis, and more!
We have many ways to customize and make your space your own at Casa Linda. With villas starting as low as $200,000 USD, a little slice of paradise can easily be yours!
Let's Get Started!
Casa Linda villas are waiting for you! Explore your new island life today by contacting our team today.