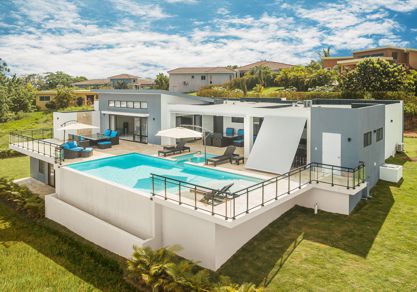 Your Perfect Villa
is waiting for you at casa linda
When planning for your retirement, one might feel constrained due to their budget. Some may even postpone their retirement just to be able to save up for a home they're not entirely happy with. Why purchase a 250,000 USD home in the cold when you can custom-build a luxury villa on a tropical island?
With Casa Linda Quality Communities, we offer customers across North America the opportunity to invest in a custom-built luxury villa in the Dominican Republic! Our villas are suitable for every budget, allowing you to build your dream home without worrying about extravagant expenses. Read on to learn more about Casa Linda's villas! 
Our Luxury Villas
No two homeowners are alike, which is why at Casa Linda, we work closely with all our customers to create a personalized work of art that is meticulously designed to satisfy their wants and needs. Partnering with Casa Linda brings you much more than just a home; our team works hard to ensure that your dream home is perfectly tailored to your taste and needs. 
As a property owner, you have the option of building your luxury villa from one of our existing floor plans below or creating your own luxury villa from the ground up: 
1-2 beds, 1-2 baths
Two beds, two baths
2-5 beds, 2.5 – 5.5 baths
2-3 beds, 2.5-3.5 baths
Three beds, 3.5 baths
Four beds, 4.5 baths
For those looking for inspiration, you can always check out our gallery, where you can see how homeowners built their custom-built luxury villas. 
Customize Your Villa
In addition to choosing your preferred floor plan, you can also customize your villa as you please with Casa Linda. Our staff can help you design your villa to fit your personal taste and suggest upgrades that will elevate your villa. Some of our upgrades include:
Your choice of pool:

Infinity pool
Saltwater pool
Mirror pool

Outdoor upgrades:

Outdoor Kitchen
Outdoor palapa
Outdoor showers 

Additional entertainment:

Jacuzzi
Fountain or pond
Swim-up bar
Your upgrade options are endless when building your luxury villa with Casa Linda. Whether you choose to upgrade from our standard upgrades or have an idea for something special, we will do our best to bring your dream villa to life. 
Ready To Build a Luxury Villa in The Dominican Republic?
Your retirement plan should go according to your wants and needs; you shouldn't feel restricted or constrained by budget or finances! At Casa Linda, we help customers build the villa of their dreams. Contact us today to learn more about our available homes!