2022 is here, and there's never been a better time to embrace your dream of living in a tropical paradise! If you've always wanted to take the leap and make the move to island living, the Dominican Republic and Casa Linda Quality Communities are here to welcome you with open arms to our beautiful piece of Caribbean heaven! Whether you're a savvy property investor, an entrepreneur looking to lower your operational costs, or a retiree looking for the perfect place to settle down and enjoy your newfound freedom, the DR truly has something for everyone to enjoy. Learn more about life in the Dominican, as well as the luxury villas offered by Casa Linda below!
Why Choose the DR?
It's no secret that there are more than a few tropical countries that attract expatriates from all over the world to their sunny shores. The truth is, however, that very few of them can compete with the many benefits offered by moving to the Dominican Republic. From the affordable cost of living to a foreign investment-friendly government, higher than average safety index rating, world-class healthcare system, and (of course), breathtaking beauty around every corner, it's hard to beat the DR. Known as the Jewel of the Caribbean this stunning island is full of culture, history, and an incredibly welcoming community of both natives and an ever-growing expatriate population that's always ready to greet newcomers! Whether you're looking to start off with a winter escape and move into a full-time living down the road or take the leap today, Casa Linda is here to make your dream of island life an easy reality.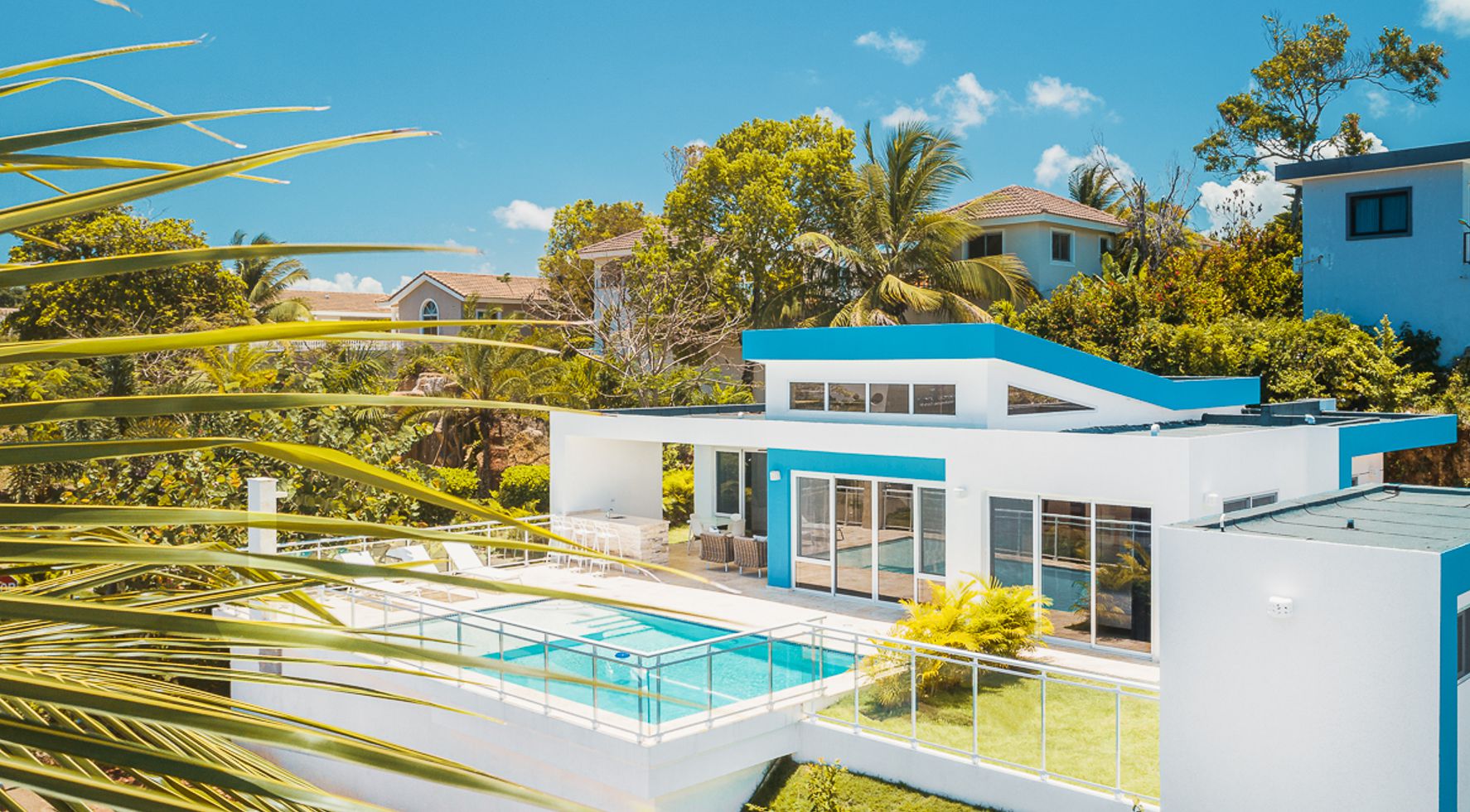 Meet Casa Linda Quality Communities
Located on the northern end of the island, just outside of Cabarete, Casa Linda's private gated community is the perfect place to settle down and enjoy your new tropical lifestyle. We offer several impressive villas that suit the different and diverse needs of our residents and visitors, each of which are built with meticulous attention to detail and plenty of options for customization.
Floor Plans
Casa Linda villas are available in a wide range of sizes and layouts to make sure you have the perfect choice for your needs. Below is an example of two of our luxury villas, Villa Dolce Vita and Villa Atlantis. These beautiful and affordable villas include up to 4 master suites so that you and your guests can live comfortably.
The Villa Dolce Vita includes 4 bedrooms, all with a corresponding built-in full bathroom, as well as an additional half bath in the house for guests. The smaller option comes with 3 bedrooms and 3.5 baths. In addition, these villas include guest suites for any visitors, making sure your guests' stay is as comfortable and convenient as possible.
Villa Sunset is a smaller villa, making it ideal for empty nesters looking to downsize, while still enjoying 1,156 sq feet and 2 bedrooms and 2 or 2.5 baths, as well as an 8,000 or 9,422-gallon swimming pool with a sunbed area for all your sunbathing needs.

Convenient Living with Casa Linda
Casa Linda Quality Communities is designed to make sure our residences have everything they need to feel comfortable. With close proximity to international airports, shopping, healthcare, and plenty of other amenities, as well as 24/7 on-site security and more, we have everything you need to feel safe and happy in paradise!
Ready to Check Out Your Options?
Visit our website to learn more about our catalog of luxurious and affordable villas today.