Are you ready to settle down in your own private villa on a beautiful tropical island? If so, then the Dominican Republic is calling your name! Casa Linda is excited to provide you with the luxury villa of your dreams at a price that lets you live a comfortable life within your budget. The Dominican Republic is well known for its incredible weather, beaches, and large expatriate communities. At Casa Linda, we make moving to the island easy! Below you'll find out more about our gated communities, stunning villas, and weather conditions in the DR. Continue reading to learn more. 
Beautiful Sunny Beaches
Strategically located in the sunny northern Dominican Republic, Casa Linda's villas are perfect for residents looking for warm and reliable weather. With an average temperature of 28°C (82°F) year-round and safety from hurricanes, the DR is a slice of tropical paradise. Where else can you enjoy summer weather all year round with the conveniences of the amenities you're already used to? Best of all, the DR has some of the best beaches for kitesurfing, evening walks and catching a well-deserved tan.
Close Community
Casa Linda's villas are perfect for long-term residents and visitors alike who want to get to know other residents. Our villas host a diverse range of expatriates and tourists from all over North America, Europe and beyond! So you have plenty of opportunities to make meaningful connections with interesting people. Casa Linda also hosts a variety of activities to help facilitate getting to know your neighbours. Our communities are culturally vibrant places to kick your feet up and enjoy the sunshine or participate in new and old hobbies. For well over 20 years, residents and visitors have trusted Casa Linda for worry-free living.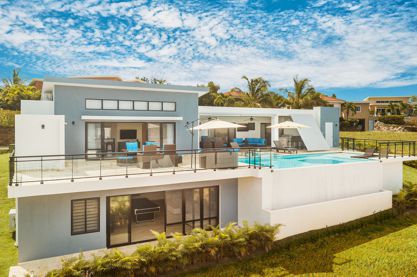 Casa Linda's stunning private villas, beautiful locations, and high-quality customer service set us apart from the competition. We even offer our residents a range of exceptional amenities, such as a free airport shuttle service, mini-markets, 24-hour desk service, and onsite restaurants! At Casa Linda, we are committed to providing you with the best experience possible, regardless if you're living with us full-time or part-time. So if you're looking for an excuse to improve your tennis, pickleball, bocce ball, or shuffleboard game Casa Linda's private gated communities are here for you!
Stunning Villas
Are you looking to live in luxury at an affordable price? Casa Linda villas start at just $199,999 USD and include the lot, swimming pool, estate, and landscaping. But that's not all! Casa Linda is a custom home builder. So if you'd like to add that personal touch to your villa, our team of in-house architects can help you design your tropical dream home! From jacuzzis, and infinity pools, to outdoor kitchens and fountains, Casa Linda will prepare your estate your way to satisfy all of your needs.
Ready for Paradise?
For over 20 years, Casa Linda has been the trusted Dominican Republic custom villa builder for expatriates all across the globe. Our team of experienced builders and welcoming communities of ex-pats are here to help you adjust to life in a tropical paradise. Kiss snow and ice goodbye, and say hello to your new island life in the Dominican Republic! Contact us to find out more about our private villas.