Have you been yearning to make your dreams of relocating to a tropical paradise a reality? With more and more businesses shifting to a work-from-home format and an increasing number of people reaching their retirement years, there is more interest in embracing expatriate life than ever before. As a preferred destination for those looking to escape the fast-paced nature of western living as well as cold winters, the Dominican Republic, is home to a thriving community of ex-pats from all over the world. Casa Linda Quality Communities is proud to welcome you to our incredible "backyard" and to share the many reasons people choose to call the Dominican Republic, and more specifically Cabarete, home. Learn more about the benefits of living in Cabarete below!
Paradise is Calling
Located on the northern end of the island, Cabarete is nestled in the heart of the Puerto Plata Province of the Dominican Republic. Home to countless beaches, a renowned dining scene, and plenty of other perks, Cabarete is also close to an international airport that makes it easy to come and go as you need and offers shelter during the Caribbean's infamous hurricane season. As a popular tourist destination as well as a settling location, Cabarete has become a hub for an ever-growing international community, alongside the welcoming nature of Dominicans. People who choose to live here love the sense of adventure, the natural beauty of the area, as well as the many perks of living in a tropical paradise. Such perks include:
Better Weather
Never shovel again! One of the biggest perks to relocating to the island is the warm temperatures and lack of snow, all year round. In the DR, daily highs average approximately 85°F, and with nearly 300 days of sun each year, cold weather is well behind you! Pack your SPF and sun hats and get ready to work on your tan from the comfort of your very own private villa!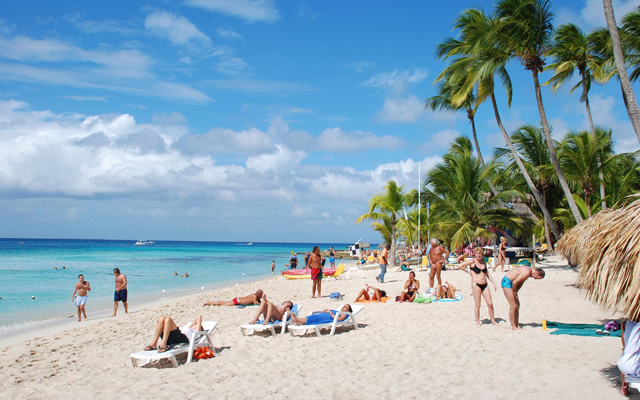 Adventure Around Every Corner
The Dominican Republic truly has something for everyone, no matter your preferred style of relaxation or adventure. From high octane activities like deep-sea fishing, parasailing, or speed boating to relaxing on a VIP beach with a cocktail, there are endless ways to enjoy and explore your new home in peace.
Life At Your Pace
Are you tired of feeling burned out at the end of every day? Wish you had more time to take things slow and unwind? In the Dominican, the 'Life Tranquilo' (easy-going) is king! Though it might take some adjusting (expect things to run considerably later than they do elsewhere), many newcomers find themselves increasingly relaxed by the island's slower pace and able to refresh themselves with some seriously deserved downtime!
Life on the Island Doesn't Need to Be a Dream!
Are you ready to move to Cabarete? Casa Linda Communities is here to help! We're proud to offer 10 unique villa floor plans with prices starting as low as $185,00 USD. With high-quality craftsmanship and affordable living readily available, your dream home in paradise is much closer than you think! Contact us today to learn more!