Need some extra room to accommodate your friends and loved ones in the Dominican Republic?
Adding a guest house to your luxury Caribbean villa is the way to give yourself more room to entertain, as well as afford your guests more privacy in paradise. As a luxury developer in the Dominican Republic, Casa Linda Quality Communities is proud to offer stunning floor plans, complete with the option to include a dedicated guest house. Our guest houses are secluded spaces that are big enough to accommodate everything your guests need, and also serve as the perfect private abode for when you might want extra space to yourself.
Below, we'll take a look at a few of the details specific to Casa Linda guest housing. Read on to learn more!
3 Plans For You
At Casa Linda, we know that choice is king. That's why we're happy to offer several layout options for your guest house. Our guest house specific layouts are as follows:
A 1-bedroom guest home featuring a dedicated great room, ideal for entertaining. Measurements for this space are 662 square feet by 61.5 square meters.
The second option is a cozier 1-bedroom guest house without a great room, but still with plenty of space for guests to enjoy. This smaller option is 269.1 square feet by 25 square meters.
2 bedroom guest house. This model is perfect for visiting family members with children, or multiple guests at once and measures 538 square feet by 50 square meters.
All of our guest houses can be personalized to fit your individual vision for your guest house.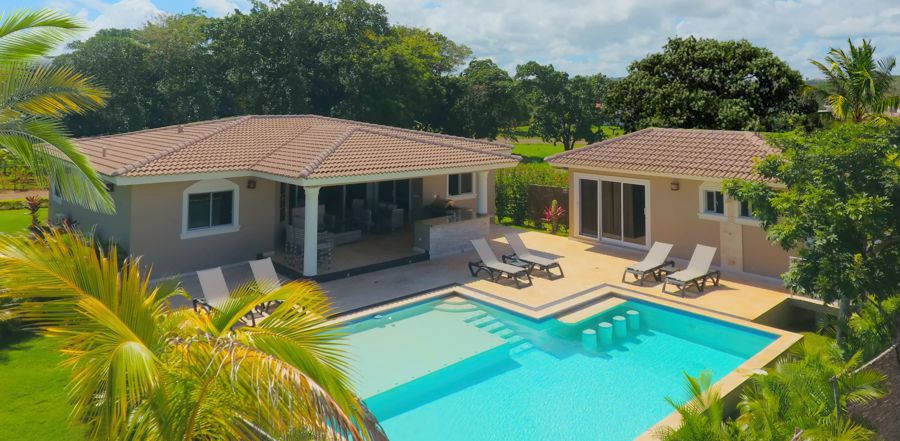 Customizable Options
As we said above, choice is a luxury you should never have to skimp on. At Casa Linda, we give you ample ways to customize both your main villa as well as the guest house ranging from interior design to specific features that fit your unique needs. If you prefer a larger space or one that is cozier, Casa Linda's team of custom home builders can make it happen, along with anything else your heart desires. We have over 25 years of experience customizing homes for residents and offering personalized options that work.
Choose Casa Linda Villas
Casa Linda has over 25 years of experience crafting custom homes and welcoming newcomers to the Dominican Republic. Our goal is to build the perfect villa and help you feel right at home as soon as possible. We know that leaving loved ones behind back home can be hard, but with the extra space of our guest homes, you'll always be able to welcome them to your brand new home!
Ready to Learn More?
Contact us to get to know your options today!