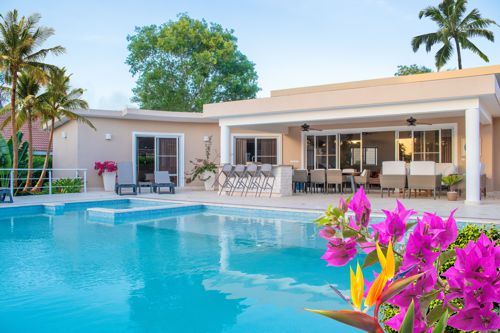 0Are you tired of shovelling snow every winter? Are you ready to trade in snow and ice for sunshine and sandy beaches? Then the Dominican Republic is the place for you! The DR is an incredibly welcoming destination for expats and tourists alike. With the help of Casa Linda Quality Communities, you can find luxury real estate that makes you feel right at home in your own tropical paradise! Below we'll get into the benefits of buying real estate in the DR and, more specifically, about one of the hottest coastal towns to live in, Cabarete. Keep reading to find out more!
Incredible Tropical Views and Weather
Arguably the prettiest part of the Dominican Republic, the north coast features lush mountains that slope into crystal clear waters. Nestled neatly on the north coast is the cosmopolitan beach village of Cabarete. Cabarete is sheltered from hurricanes and experiences over 200 days of sunshine a year. This quaint town is dotted with diverse restaurants, shops, and opportunities to make a splash by participating in numerous water sports.
At Casa Linda, we are proud to have one of our gated communities in Cabarete. This stunning community has been home to expats worldwide for nearly 40 years and offers views and adventures that will make your heart soar! No matter your interests, hobbies, or lifestyle, our Casa Linda team is sure you'll fall in love with Cabarete in the Dominican Republic.
Affordable Cost of Living
The weather and views aren't the only incredible things in the Dominican Republic! The DR is also immensely affordable, especially when you compare the cost of living to your North American counterparts. Luxury living in the DR means going to a restaurant for as little as 5 USD. Moreover, with the assistance of Casa Linda, you can find affordable luxury real estate starting at 229,000 USD. With access to high-quality and affordable medical care, shopping, and groceries, living in the Dominican Republic is a financially savvy option! If you're looking to live in paradise in Cabarete without breaking the bank, let Casa Linda help you find the perfect place to call home! 
Luxury Living Custom-Fitted for You
If Cabarete in the Dominican Republic sounds like a dream destination, let Casa Linda help you make that dream into reality! Our team of in-house architects and designers is highly skilled in creating luxury real estate in Cabarete. We offer a variety of villa floorplans to choose from and numerous customizable add-ons, so you can craft a stunning villa that is uniquely yours! From guest homes and carports to swim-up bars, and infinity pools, your real estate in Cabarete can be a custom-fitted tropical paradise. So if you're ready to plant new roots in Cabarete in the Dominican Republic, luxury real estate from Casa Linda is a great way to begin your new life in paradise!
Pack Your Bags for Cabarete Today!
At Casa Linda, our team believes that the best way to know if you like a place is to visit and stay a while! We offer a range of rental villas so you can experience what it's like to live as a real estate owner in Cabarete! Our stunning gate community is incredibly welcoming, so we're sure you'll feel right at home.
Are you ready to learn more about Casa Linda's current real estate in Cabarete? Contact us today!