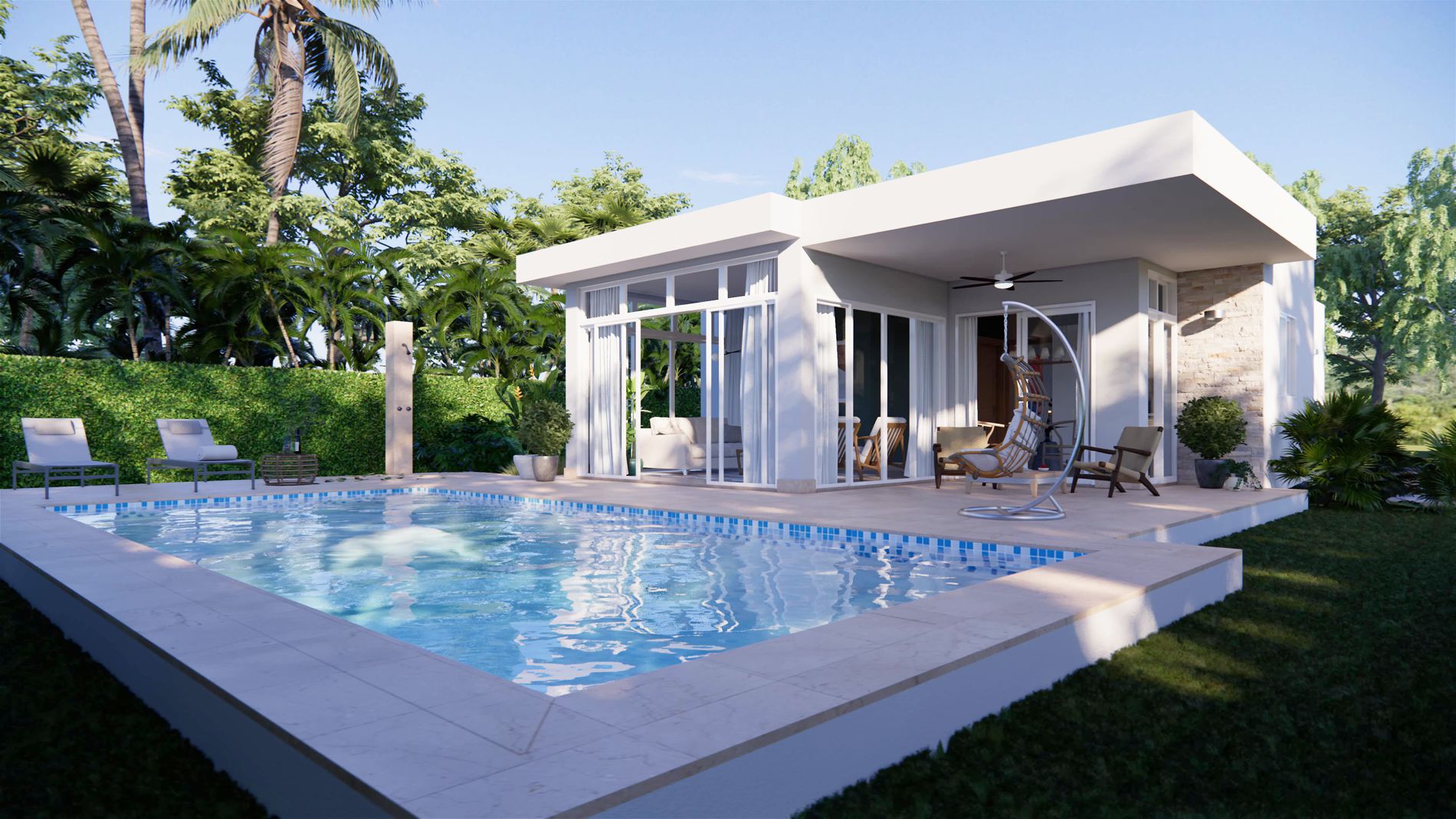 The Dominican Republic is known for its sun, sand, and shores—but that's not all the benefits Casa Linda owners receive with their villa! Villa Sunset offers so much for owners: from basics like onsite laundry and a full bath to luxuries such as the backyard swimming pool and private covered terrace. All this and more, and it's waiting for your personal touch to make it a home. Why choose Villa Sunset? Keep reading to find out!
Affordable Prices for Any Couple
Fall asleep with a view of your very own pool at a price that you can feel good about. With two floorplans both landing under $300K USD, Villa Sunset is a luxury choice for couples looking to escape the cold winter months. This smartly-planned villa has all of the amenities of our other villas and has the option to fully customize it to your specific lifestyle. The under-$300K price includes the beautiful architecture of Villa Sunset, designed in a way that you can admire the included landscaping from any of the large floor-to-ceiling windows. If you're wondering about the foreign land purchase process, Casa Linda can help you navigate through each step.
Space for All Your Hobbies
Are you a painter that just hasn't had the time? Do you dream of completing that grand masterpiece but lack the room to do so? Fortunately, Casa Linda's luxury villas have you covered! The Villa Sunset lends space for a guest home to be added to the property, which can be converted into your dream art studio, your own pottery shed, or any other space to let fly your creativity while onsite. If you're itching to find inspiration for your next project, exploring more of the Dominican Republic's North Coast is a fantastic opportunity! The Dominican Republic (DR) is welcoming to foreigners from all walks of life, and there are numerous clubs, theatre groups, churches, and community initiatives that you can join. At Casa Linda, we even host several annual events for our villa owners to mix and mingle! Let your creative side grow to its full potential in the DR!
Everything You Need, Right Here
Your Casa Linda neighbours may be avid bird watchers, dedicated athletes, community enthusiasts or many other things. We know that no matter your interests, there's a community here waiting to meet you.
From schools to consulates and private pools to affordable health care, the Villa Sunset is close to anything you may need. Your favourite parts of home can be found here, minus the snow shovels! At Casa Linda, we have dedicated staff in our gated communities watching carefully over your home while you are away, so you can have peace of mind no matter where the moment takes you, for however long it takes you. We understand that no matter how perfect a place is, you will run into inconveniences. That's why we have an owner's liaison at your disposal at all times! Our owner's liaison is here to help you smooth out any rough edges you may experience so that you can get back to your best vacation life: whatever that means for you. 
Escape to the Dominican Republic
The Dominican Republic is calling your name! Browse the Villa Sunset online and start daydreaming of your future in the DR. Our fully-staffed team are available to reach right now, and will answer any questions you may have. Contact Casa Linda today!