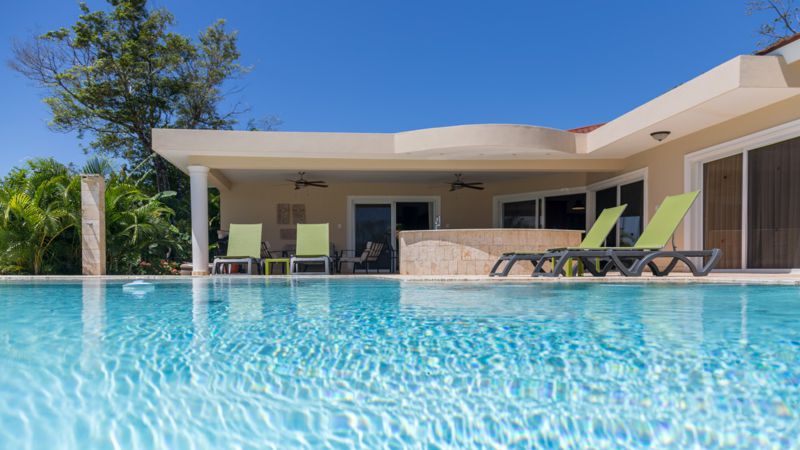 Have you been dreaming of a luxurious retirement lifestyle but are worried about the financials? Well, did you know that when retiring in the Dominican Republic, you can purchase a luxury villa on a spacious lot with a private pool and a tropical garden for less than 300,000 USD? The Dominican Republic Caribbean lifestyle is also affordable, where you and your partner can live a comfortable lifestyle for less than 2500 USD a month! If you're looking to retire to the Dominican Republic from Canada or America, here's what you need to know!
Beautiful Weather All Year Round
Say goodbye to winter shovelling and cold frostbites, and retire to the Dominican Republic today! All year round, you get to experience the warm tropical climate and enjoy over 1,000 miles of coastline. Whether you're looking to work on your tan, enjoy the crystal clear water or go on an adventure and explore some of DR's excellent hiking trails, you'll always have great weather all year round. Need we say more?
Low Cost Of Living
Compared to life in Europe, Canada and the US, the Dominican Republic is significantly more affordable. Say you have a monthly income of 3,000 USD per couple, and you and your partner can live a luxurious lifestyle as your budget can stretch much further when you retire to the Dominican Republic. Dental and healthcare are also significantly more affordable than in the USA, so you won't have to worry about extravagant medical expenses. If you're looking to gain the biggest value for your dollar, retire to the Dominican Republic today!
Retirement (Pensionado) Visa
Those travelling to the Dominican Republic under a standard or temporary visa must wait a certain period of time to upgrade their status. For instance, if you obtain a temporary residence, you are obligated to renew it for five years before applying for a standard permanent residency. With that said, if you apply for a retirement visa (Pensionado Visa), you can easily upgrade your status to permanent residency! Instead of paying taxes on your global income after a period of time, you will only have to pay taxes on your local income. When you purchase a home in the Dominican Republic, you can also enjoy the perks of an investment visa!
Affordable Luxury Villas
Aside from the great weather, low living costs and great retirement and investment perks, there is another reason why you should retire to the Dominican Republic, and that reason (drumroll please) is affordable luxury villas! Imagine waking up every morning to the sun caressing your skin as the cool tropical breeze fills your bedroom, and you wake up refreshed to the sound of birds chirping – Sounds like an expensive dream?
What if we told you that you could enjoy the Caribbean lifestyle in a 2-bedroom, 2-bath luxury villa with a 9,422-gallon pool, 1,349 ft2 (125.34 m2) living space built on a 4,305 ft2 (400 m2) lot for less than 250,00 USD?! Villa Sunset is one of our many entry-level luxury villas that allows you to enjoy the luxurious Caribbean lifestyle at an affordable price!
What Are You Waiting For? Live A Life Of Luxury With Casa Linda! 
Contact us today to learn more about our wide range of luxury villas in the Dominican Republic, or check out our villa design plans to find the perfect luxury villa for your needs!