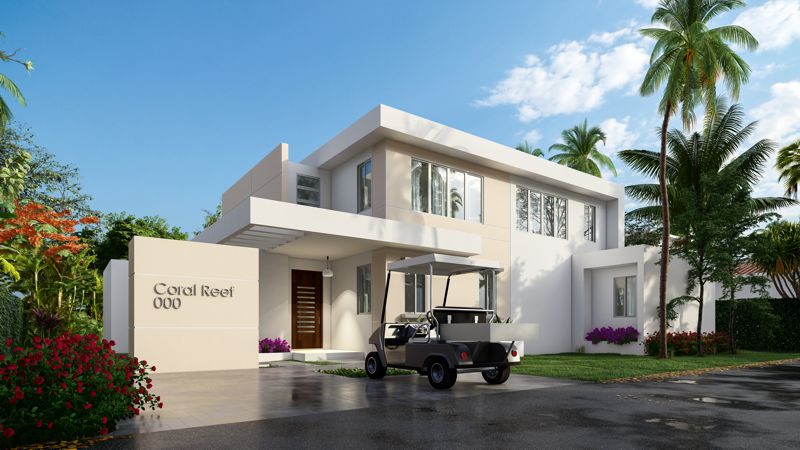 You can have unlimited access to white sandy beaches, perfect surfing weather, and so much more with Dominican Republic real estate. At Casa Linda, we offer affordable price for our luxury villas, and we know the secrets around saving money when you purchase a Casa Linda villa! Read on to find out what those secrets are.
Choose The Villa That's Right For You
A three-story, six-bedroom villa on five acres of Dominican Republic beach may be your dream, but there is plenty of reasonably-priced real estate in the Dominican Republic offering quick access to beautiful beaches, surrounded by a friendly community, with plenty of space at prices that you can afford. Our Casa Linda villas start at just 229K USD and can reach upwards of 500K USD. We advise you to take a look at the floor plans and pricing that we offer, and choose the right one for your financial situation. Each one comes with a private pool, outdoor lounge seating, and onsite parking. If you are looking for balconies that overlook your own personal 12,000 gallon pool for reading or stargazing, Casa Linda has that! If you're looking to invest in a property closer to the 200K USD mark, we have villa options with plenty of storage, two bedrooms, and its own 8,000-gallon pool. All our designs will give you the space and luxury you need to relax while fitting your budget.
Create An Appropriate Payment Plan
It's important to look deeply into your financial situation and assess what you can afford over the next few decades. You must know your income, tax bracket, credit score, and other financial information before you agree to take out a new mortgage. Never take out a mortgage term that you cannot afford! Casa Linda offers mortgage financing for our prospective owners. This can happen by two different routes: equity line of credit or a mortgage through a local bank. We make this process as simple as possible for your convenience. At Casa Linda we understand that purchasing real estate is stressful, let alone real estate in another country like the Dominican Republic. We keep mortgages done in USD, making things less complicated for you, and are there to assist throughout the whole project. 
Rent It Out While You're Gone
Did you know that you can rent out your villa when you aren't around? This is an excellent way to get use out of your home and put money back into your piggy bank. Let someone else enjoy your home, and make money off of it! With Casa Linda, we vet the Home Renters for you, taking the majority of the process off your plate. They can find renters on your behalf, set up a vacation of fun and relaxation perfectly tailored to each tenants' wants, and do all of your housekeeping for you. Your dream real estate in the Dominican Republic awaits, and we can help you get here!
Your Dream Villa Is Within Reach
Casa Linda wants to help your dreams come true. Contact us for more information on securing your own piece of Dominican Republic real estate. We can't wait to say hola in person!