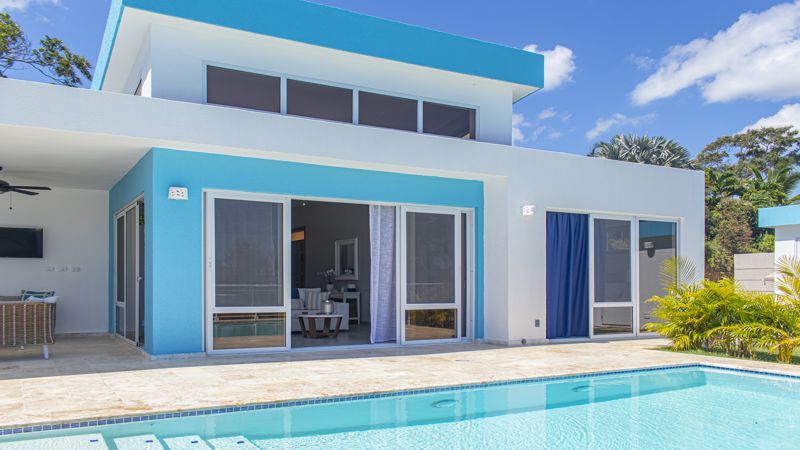 Are you looking to invest in a retirement plan that promises sunny weather and beautiful beaches all year round? Consider buying a luxury villa in the Dominican Republic!
The Dominican Republic is one of the top places in the world to invest in real estate as it has an affordable market and growing demand for sunshine and beaches. For the past decades, foreigners have relocated to the Sosua-Cabarete region as they enjoy the beautiful and established communities in Casa Linda Quality Communities.
Retirees and foreigners that have relocated to the Dominican Republic from North America also found that most essential services and products are a fraction of the cost! Not only will you get to enjoy the lovely sunshine and crystal clear water all year round, but you will also live a life of luxury for years to come! If you're contemplating buying a property in the Dominican Republic, you have come to the right place. In this series, we will explore several villa design plans available in the DR and discover how much these villas will cost in 2023! Read on to learn more about villa design plans in Casa Linda!
Villa Plan For Every Budget
At Casa Linda Quality Communities, we enjoy helping retirees and snowbirds across North America find a perfect home in the Dominican Republic. Our villa design plans include 1-4 bedrooms and 1- 4.5 bathrooms that range from 230,000 USD to 599,000 USD. We also provide knowledgeable sales staff that can help you choose the right lot and villa design plan for your needs and within your budget!
Fully Customizable Villa Design Plans
With each of our villa design plans, we offer complete customization to ensure that you find a villa that fits your personal taste, including:
Your choice of base building materials, such as block or foam panel construction
Your choice of styles and colours of cabinets, floor, door, bath tiles, countertops and paint! Our talented and experienced project coordinator in our design center will help you choose the right materials for your villa and offer advice based on our experience! You can also bring your own pictures and ideas!
Your choice of pool size and shape and complimentary sunbed area. With a wide variety of upgrades, you can choose to build an infinity pool, a saltwater pool or a mirror pool! Some villa owners have also opted for a jacuzzi and a swim-up bar!
When creating your villa design plan with Casa Linda, your options are limitless! We aim to offer you a villa that is unique to your needs and suits your personal taste—looking for inspiration? Take a look through our gallery!
Villa Design Plans at Casa Linda Quality Communities
In the next part of our series, we will explore our villa floor plans and prices for the following:
Villas Under 300,000 USD
Villas Under 400,000 USD
Villas Under 500,000 USD
With each of our villa design plans, we can build an additional guest house starting from 44,000 USD to offer a private retreat space for your guests or relatives. Our guest houses can feature 1-2 bedrooms and 1-2 bathrooms, offering 269.1 ft2 (25 m2) – 538 ft2 (50 m2) living space.
Want To Learn More?
Contact us to ask about any of our villa floor plans, or chat with us through our live chat! We're also one phone call away at our toll-free number, +1 (844) 872 – 8686.
Next: Looking for affordable and luxury villas? Check out our next blog for luxury villas under 300,000 USD!