Live the island life of luxury in the Dominican Republic with Casa Linda villas! Casa Linda is excited to offer you some of the most affordable and luxurious villas on the island. We have supported potential homeowners like you for over 20 years to help carefully build your dream life in the Dominican Republic.
With beautiful amenities and sunshine that will keep you going no matter the time of the year, we know that the Dominican Republic has got everything you need and more. Keep reading to learn more about how life in the Dominican Republic will be the perfect fit for you.
Sunshine You Can Rely On
Live a life free from the stress of cold weather by making the Dominican Republic your home. With an average temperature of 28°C (82°F), this side of the island is always the perfect temperature for lounging by the pool or taking a quick dip in the sea.
While parts of the island experience extreme weather, the north coast of the Dominican Republic is free from hurricanes and any other environmental issues. On the north coast, you can wake up every day to the sun shining through your window and vibrant greenery that uplifts your spirit.
Easy to Maneuver
Not a native Spanish speaker? You can rest assured that you do not need to speak Spanish to live in the Dominican Republic. Life in the Dominican Republic is easy to maneuver for English speakers. Many residents of the north coast are ex-pats from different parts of the world who speak various languages. Casa Linda makes sure to create communities that bring people together and celebrate diversity in a space where communication is possible.
Casa Linda villas also include a shuttle bus service to help you get from point A to point B safely and comfortably. All of our services are supplied by people who can speak English and help you with anything you need. This also extends to local restaurants and shopping, where you will be able to have friendly conversations with people from the island.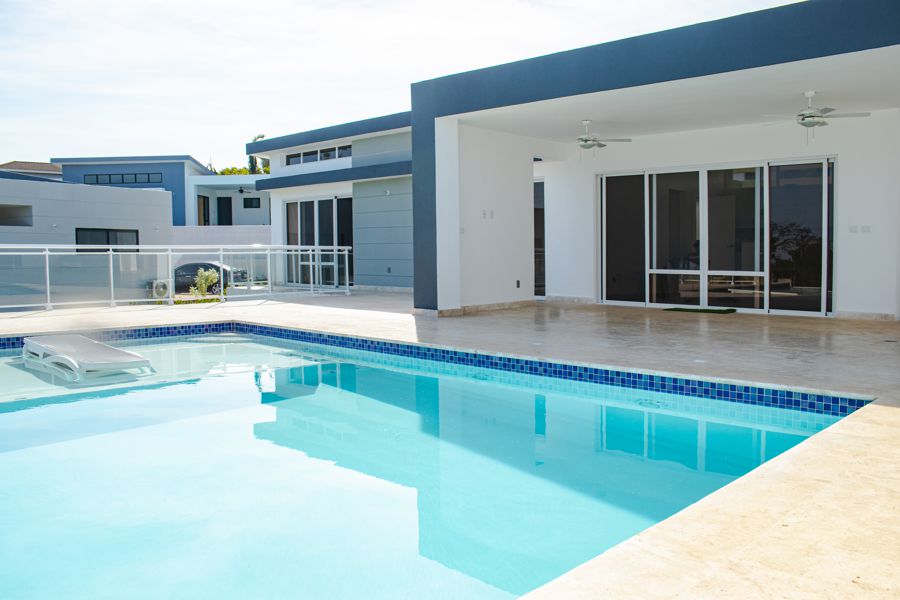 Luxury Homes You Can Afford
Enjoy a life of luxury at a price you will love in the Dominican Republic. Casa Linda villas have some of the most beautiful homes. With stunning views and a lifestyle upgrade that makes you excited to wake up every morning, these villas are perfect for anyone looking to enjoy the next phase in their life.
We are excited to offer a variety of villas for you to choose from. Our floor plans include larger, 5-bedroom layouts or smaller villas with 2-bedrooms and a beautiful pool you can lounge by every day. With our selection of villas, we know you'll find the perfect fit for your new life on the island.
Adventures You'll Never Forget
Take on life's many adventures in the sunny Dominican Republic! The Dominican Republic is often referred to as the gem of the Caribbean and boasts some of the most incredible views around. This gorgeous country is a major destination for ex-pats looking to upgrade their life in the Dominican Republic. Not to mention the north coast has some of the most stunning views the island has to offer.
As a resident of Casa Linda villas, you can enjoy the beautiful town of Cabarete or take a trip to charming locations like Puerto Plata and Costambar for a change of scenery. These destinations are all within an hour's drive, and our shuttle buses are always ready to take you to your destination safely. These towns offer their selection of delicious food and exciting shopping that you're sure to enjoy.
Ready to Learn More?
Our team of experts is ready to help you upgrade your life in the tropical Dominican Republic! Contact us to learn more.