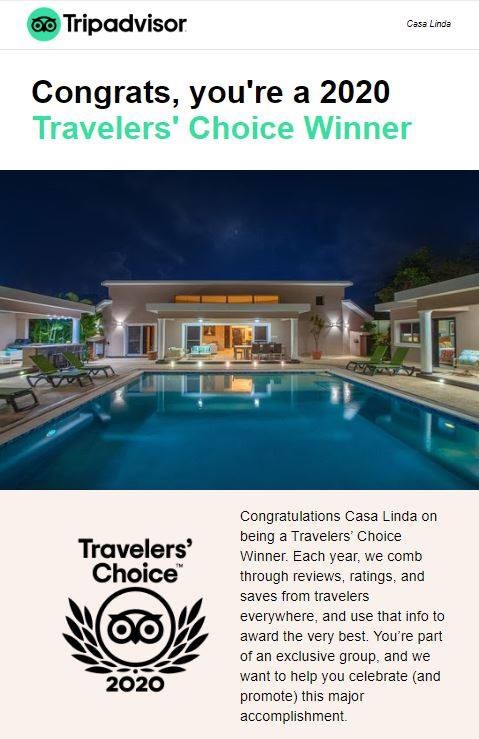 Casa Linda Wins Tripadvisor Award
We are proud to announce that Casa Linda Rentals has received the Tripadvisor Travelers' Choice for 2020 Award!

The reviews from our valued vacation renters has resulted in our development becoming one of the top 10% of all hotels in the world!  We are so grateful to everyone who reviewed our vacation villas to make this possible, and to our valued staff who provide such excellent service to our guests.
We have repeat renters who have been visiting us for years as well as new travelers who have just discovered that renting a vacation villa is the best kind of holiday:  private with great services, onsite amenities like our free shuttle bus, and all the services of a resort.
Casa Linda villas are each owned by a private owner. 
For over 27-years, many villa owners have used their homes as full or part time vacation rentals.  This offsets monthly costs and often makes owing a home in the tropics possible.  With the excellent management services on the north coast of the Dominican Republic, owners know that they leave their dream villas in capable, experienced hands.
We are proud to benefit the local community.
Casa Linda is a major contributor to the local area.  With over 300 villas completed, and more under construction, our active community of owners and renters means that almost a thousand people are directly and indirectly employed.  This trickle down benefit to providing tropical dreams is something we are all very proud of, even more than winning such a prestigious award.  We will continue to earn great traveler reviews and keep our vacation guests coming back!
For more information about how you can own your own Casa Linda villa and enjoy all the services and amenities our valued owners enjoy, please click here. 
Have a Question?
We're Standing By