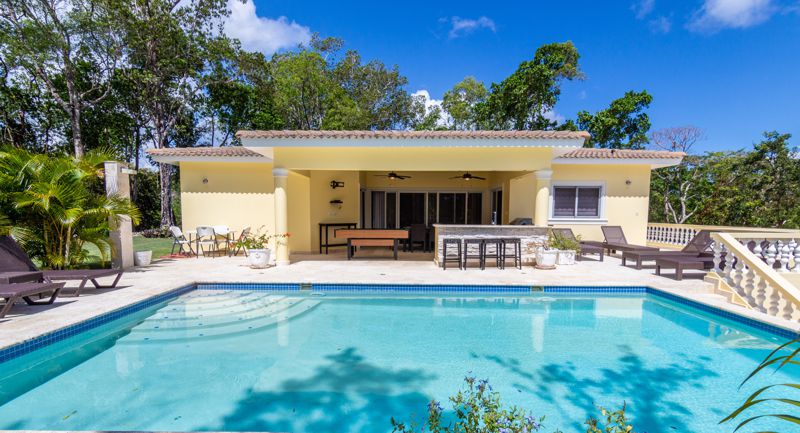 Your Perfect Villa
is waiting for you at casa linda
There's nothing better than basking in the sun, enjoying a drink as you slowly doze off to the sound of the waves crashing into the sand, so why not do it every day?!
Rather than purchasing a property back home where you can only enjoy the outdoors three months a year, invest in a private villa in the Dominican Republic where you can enjoy fabulous weather all year long! Why limit yourself to 3 months of adventure when you can enjoy white-sand beaches, rainforests, mountains and savanna deserts throughout the year? Read on to learn more about Dominican Republic private villas! 
Where To Start?
Investing in property can sometimes be a complicated process, especially when you're investing in a foreign country. At Casa Linda Quality Communities, we understand the obstacles that foreign buyers face, as we were once foreign buyers too! Our team is equipped to provide you with the right information you need to choose the right lot, understand the buying process and custom-build your villa! From navigating your foreign investment to furnishing your new villa – Casa Linda is with you every step of the way!
Live Like an Owner! 
Before investing in a private villa in the Dominican Republic, why not visit us and experience life in the DR in one of our rental villas? We are more than happy to take you on a tour around Sosua and Cabarete areas, where you can hit the beach, go out for groceries, or just walk around and discover the island! With Casa Linda, you can live like an owner! 
What is The Buying Process?
Casa Linda's buying process is as follows: 
Pick your villa plan.
Choose the right lot for you.
Receive the final approval for the villa plan
Sign the contract of sale
Casa Linda starts building! 
If you're interested, Casa Linda can introduce you to a decorator to start furnishing your private villa two months prior to completion.
Move-in! 
Yes, the buying process is that simple! At Casa Linda, our aim is to ensure that the buying process is smooth and seamless from start to finish! 
How to Pay For Your Villa
Similar to many builders, we construct villas in stages, with payments allocated at different construction phases. At the beginning of the construction, 35% of the purchase price is paid to reserve the lot. After 3-4 weeks after the start of the construction (and depending upon the construction schedule), 30% of the purchase price is to be paid. The remaining amount is to be paid according to the construction schedule, and the final 10% is paid upon taking possession of the villa. You can also read more about our buying process here. 
Ready To Get Started?
Contact us today to learn more about purchasing Dominican Republic Private Villas!