DOMINICAN REPUBLIC
Affordable Luxury in Paradise.
Are you:
 Tired of snow and cold?
Maybe you're wondering where to retire?
Would you like to own a vacation home you can rent?
Are you thinking about a simpler, more affordable way of life?
How about sunshine, sandy beaches, new friends and a slower pace?
How about a better quality of life?
Our Villas:
Our executive construction spec and North American style infrastructure offer affordable luxury in the land of perpetual summer, and no hurricanes!.  Prices start at$199,900 US and include the villa, lot, swimming pool and landscaping.  
We are a custom builder.  Use our ideas and our in-house architects to create your tropical dream home!
Now is your time.  Live your best life at Casa Linda.
Casa Linda Features & Amenities:
Gated Community with 24-hour Security
Onsite 24-Hour English Speaking Welcome Center
Minutes to beaches, shopping, services, airport
Complimentary shuttle bus service daily to local beaches/towns
Administration services
Castaway's Restaurant, mini-market, waterpark, playground, tennis, walking trail & more
Beach Clubs on Sousa and Cabarete Beaches
Thriving Social Community
The North Coast of the Dominican Republic:
Paradise…with real life services!
THE BEST TROPICAL CLIMATE:
Average temperature of 28° Celsius (82° Fahrenheit)
No hurricane has ever been recorded on the North Coast
Over 200-days of tropical sunshine all-year
COMMUNITY
A large expat population makes the north coast home, and has for over 40-years. Expect a warm welcome, many social events, excellent services, and a large friendship group.
DIVERSE & STABLE WITH STRONG INFRASTRUCTURE
#1 tourist destination in the Caribbean. 6,187,542 visitors flew to the Dominican Republic in 2017
Foreign investment-friendly representative democracy
Fully owned property with similar title system to Canada and the US
Strong economic ties to US and Canada
Rich culture overflowing with museums, art, festivals, music
Best communications system in Latin America
Excellent medical facilities & doctors. Affordable healthcare.
The north coast of the Dominican Republic offers the same comforts and services as North America…
without the ice scraper!

A better quality of life.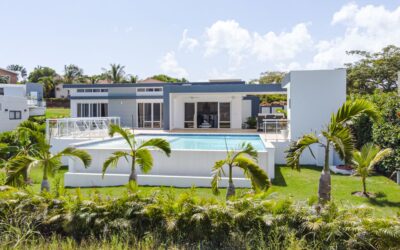 Your Perfect Villa is waiting for you at casa lindaThere's nothing better than basking in the sun, enjoying a drink as you slowly doze off to the sound of the waves crashing into the sand, so why not do it every day?! Rather than purchasing a property back home where...
Privately owned villas with the services of a tropical resort
Residential Casa Linda
Carretera El Choco, Sosúa, Puerto Plata, Dominican Republic