The Buyer's Journey
IN THE DOMINICAN REPUBLIC
 By Vicki Tetley
As the saying goes "a home is built with love and dreams". The moment you have a partner, one starts picturing what life is going to be like, retiring and creating your dream home. Luckily, my hubby and I have made our dream come true and just bought our tropical dream home in Casa Linda, Dominican Republic.
My name is Vicky Tetley, I am originally from Canada. My husband, Dave, and I are currently going through the process of becoming a DR homeowner.
A little over 4 years ago, I received a phone call, one summer day, offering me a job as a sales administrator here in the Dominican Republic. It was a unique opportunity, my husband and I talked it over and came down to visit for a week during late August.
Watch this video where I go over my daily routine, why choosing Casa Linda, and villa design choice:
Back Story
We fell in love with the place automatically, halfway into our discovery week we knew this was the place we wanted to retire in. Not only because of the people but we had visited previous islands before but the Dominican Republic is where we felt comfortable, at home. Once we got home in Canada, I gave my notice to my current employer and then moved down to the Dominican Republic on October 19th, 2017. 
Daily Routine as a part-time Retiree
My day normally starts fairly early in the morning. I'm up early, the girls, my dogs, are my first attention, I have to get them outside. Then, I do something for myself, exercise, breakfast. Monday, Wednesday, and Fridays I am taking Spanish classes. Now, do you have to learn Spanish? No, you don't, but I want to, it means the world to me to learn Spanish. So, I work with a Spanish instructor right now, her name is Claudia and she's great. After that I'm usually on my computer, checking emails, WhatsApp messages, answering clients' queries. 
My days might vary whether there is a client on-site or not. When a client arrives I like picking them up at the airport, taking them for some groceries, maybe for some money exchange. I like to spend quite a bit of time with them because I like them to not only see the villas but also what life here looks like. Where you're going to live, the quality of life, and what you can do is important. I am partially retired, so I like to get some golf here and there, go to the beach and relax. You're going to meet some wonderful people like I have and enjoy life.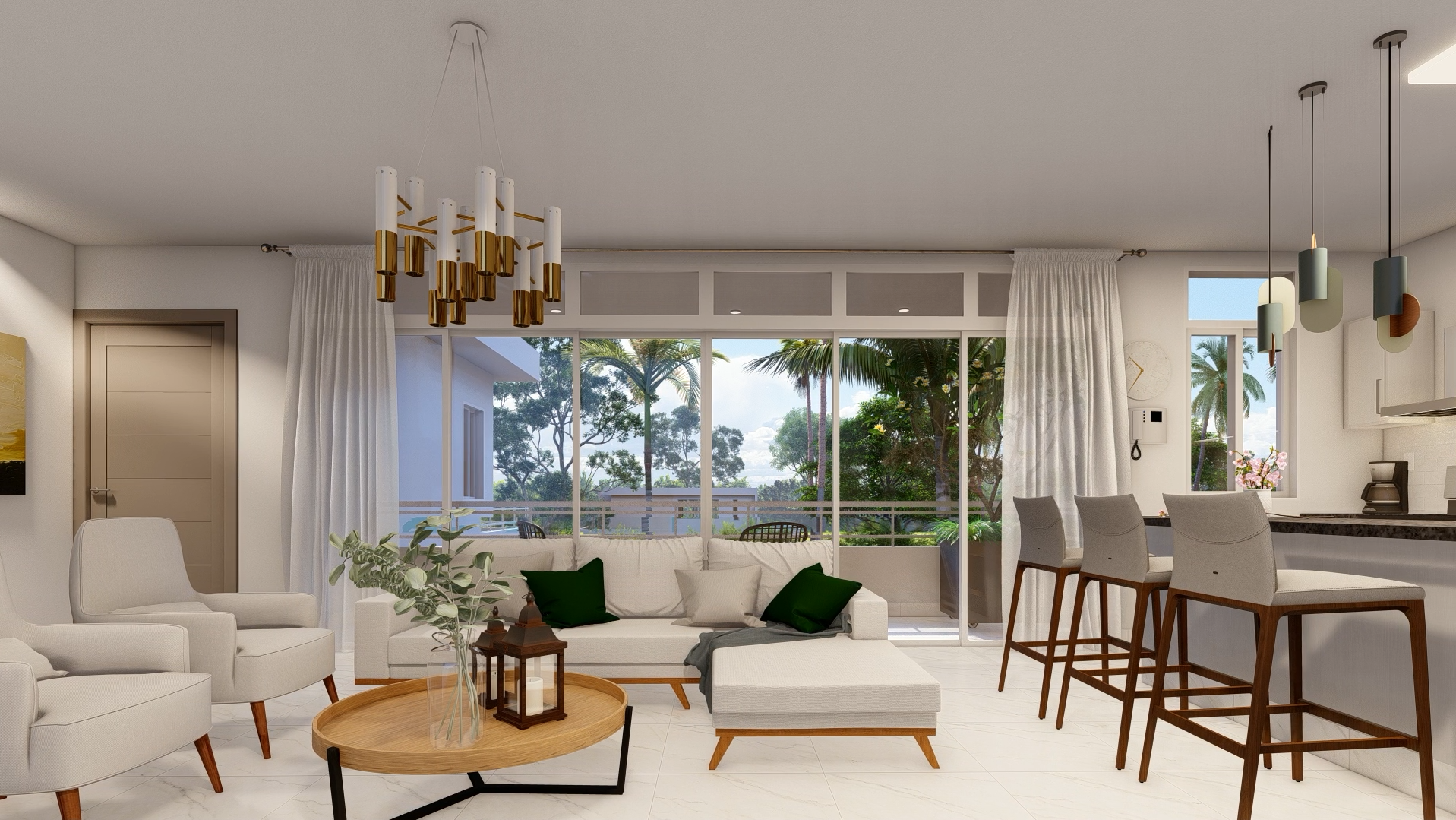 Working Life
I've always been a busy bee, even back home, but here it's calmer, I can be busy but it's not as stressful. My work history has always been involved with client services. I'm fielding out questions for people that are interested in property here in the Dominican Republic. It's just trying to get to know the client on what they're looking for so that we can adapt some suggestions or make recommendations to them and help with their journey. 
The most important tool in that process is the buyer's guide, it gives everyone all the information they need, Casa Linda has an excellent one you can download here for free.
Why Casa Linda
There are many great communities here that I have visited, but Casa Linda for me ticked all our boxes. The community feel is what drew us in. We have great friends here that are either full-time residents or part-time. Honestly, there was just nowhere else we wanted to be.
When I first arrived in the Dominican Republic in 2017, I stayed with friends for the first few weeks, and then I moved into a guest house. As time went on, Dave and I were trying to determine when he was going to join me here and retire. We started talking about new builds and there were a couple of models we liked. 
We loved the Sunseeker but also the Seashell, so what we ended up doing, in the end, was building a brand new villa, two-bedroom customized new construction, with some similarities to the Seashell. 
Final Villa Model
Dave and I are very excited, this is our first home together, we are creating it together and are excited about that. We sat with one of the architects at Casa Linda, who designed our villa. We were looking forward to a two-story villa because in the lot there's a ridgeline along, where there are some nice, big beautiful homes. We didn't want ours to look out of place but didn't want one as big either. What has been created looks fantastic on this lot. 
Our villa is custom-designed, it contains two bedrooms, two full bathrooms, and two half baths, with a beautiful backyard and space for our dogs. Outdoor living is really important here in the Dominican Republic, even though the lot we picked is quite small, we have green space, a 9500-gallon pool, a barbecue area, and a bar underneath a covered terrace. 
We've incorporated a balcony off the master bedroom which we're very excited about, Dave in particular because he envisions himself drinking his morning tea. The living area was created to have big open spaces, we added double parking space enough to fit two cars with a storage room off the driveway.
My husband and I can't wait to be able to sit and relax, take a deep breath, and say 'Hey! This is exactly what we wanted'. Moreover, we'll be sharing our journey where I get to go over materials and our newest baby's first stages of construction.
If you are planning for retirement or seek a home base with a lower cost of living, it's time to check out the Dominican Republic! ? Learn more about Dominican features and amenities through our video series on Youtube: "Buying Real Estate in the Dominican Republic".